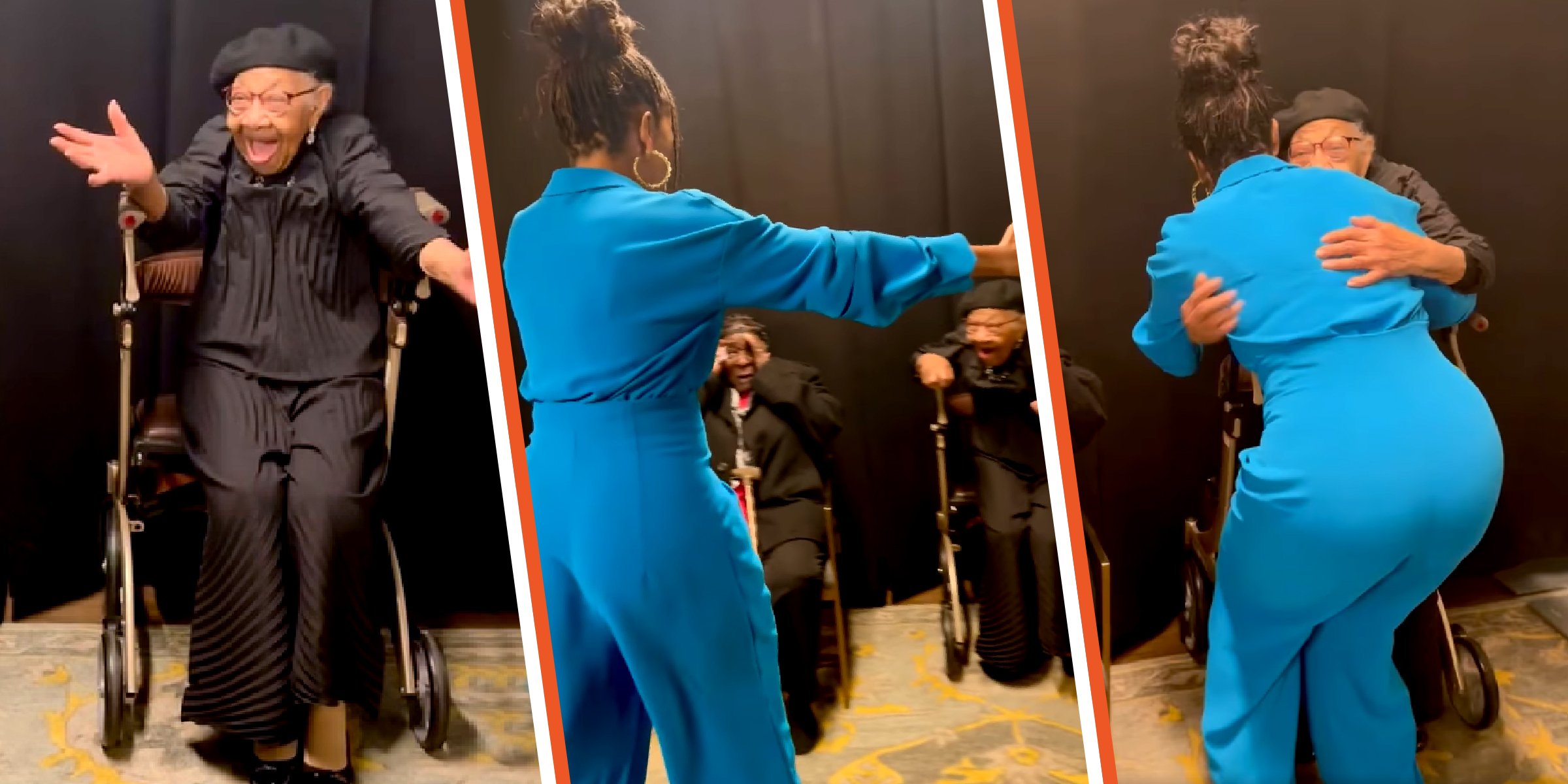 Eloise Brown | Michelle Obama, Johnnie Devlin, and Eloise Brown | Michelle Obama and Eloise Brown | Source: facebook.com/michelleobama
Michelle Obama Fulfills Philadelphia Woman's Only 100th Birthday Wish to Meet Her

When friends, family, and local officials gathered to celebrate a woman's 100th birthday, she put on a crown and shared a wish to mark the special occasion. She desired to meet the former First Lady, not knowing that her wish would soon come true.
Eloise Brown was a resident of South Philadelphia and had lived there for more than eight decades. She was fond of the city and loved everything about it, particularly the Eagles and the Phillies. People knew Brown for her sheer optimism, unwavering faith, and incessant love for family.
Donning a crown and exuberating positivity and love, she took her seat on center stage, feeling and looking like a queen. It turned out that relatives, friends, and local lawmakers had all come together to throw a lovely party for Brown's 100 years on planet earth.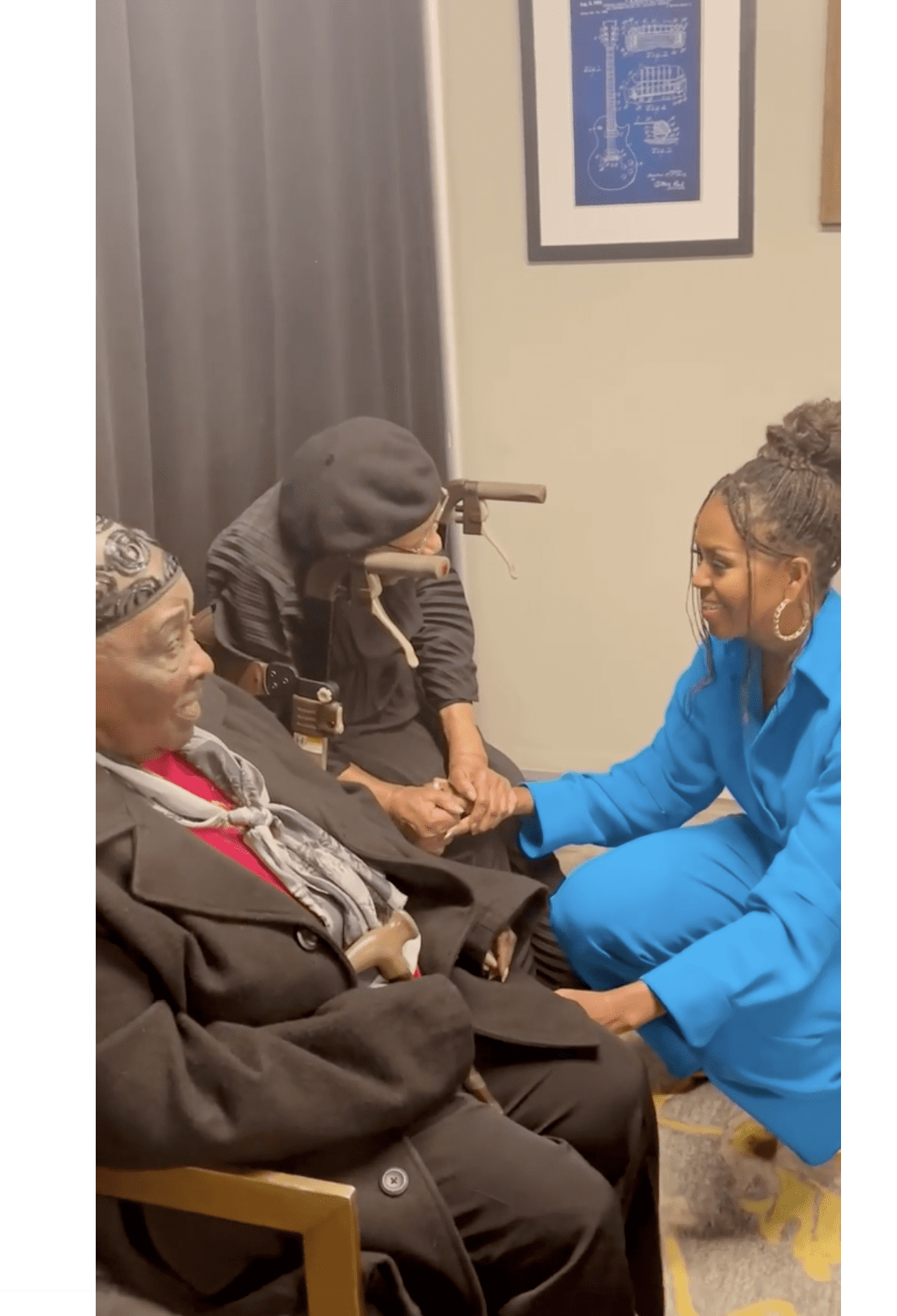 Michelle Obama sits beside Eloise Brown and Johnnie Devlin to have a chat. | Source: facebook.com/michelleobama
A Heartfelt Wish
Brown had led a worthwhile life, making priceless memories and captivating people with her wisdom and knowledge. After thanking her loved ones for surprising her with a special celebration, she shared her birthday wish—which was close to her heart.
She sat down with the sisters and had a sweet exchange that would always remain etched in Brown's memory for the rest of her life.
One might wonder what Brown's heart desired after being around for a century. The South Philadelphia resident said she wanted to meet the former First Lady Michelle Obama. With full conviction, she defended her heartfelt wish and said:
"It's not impossible. Things happen every day."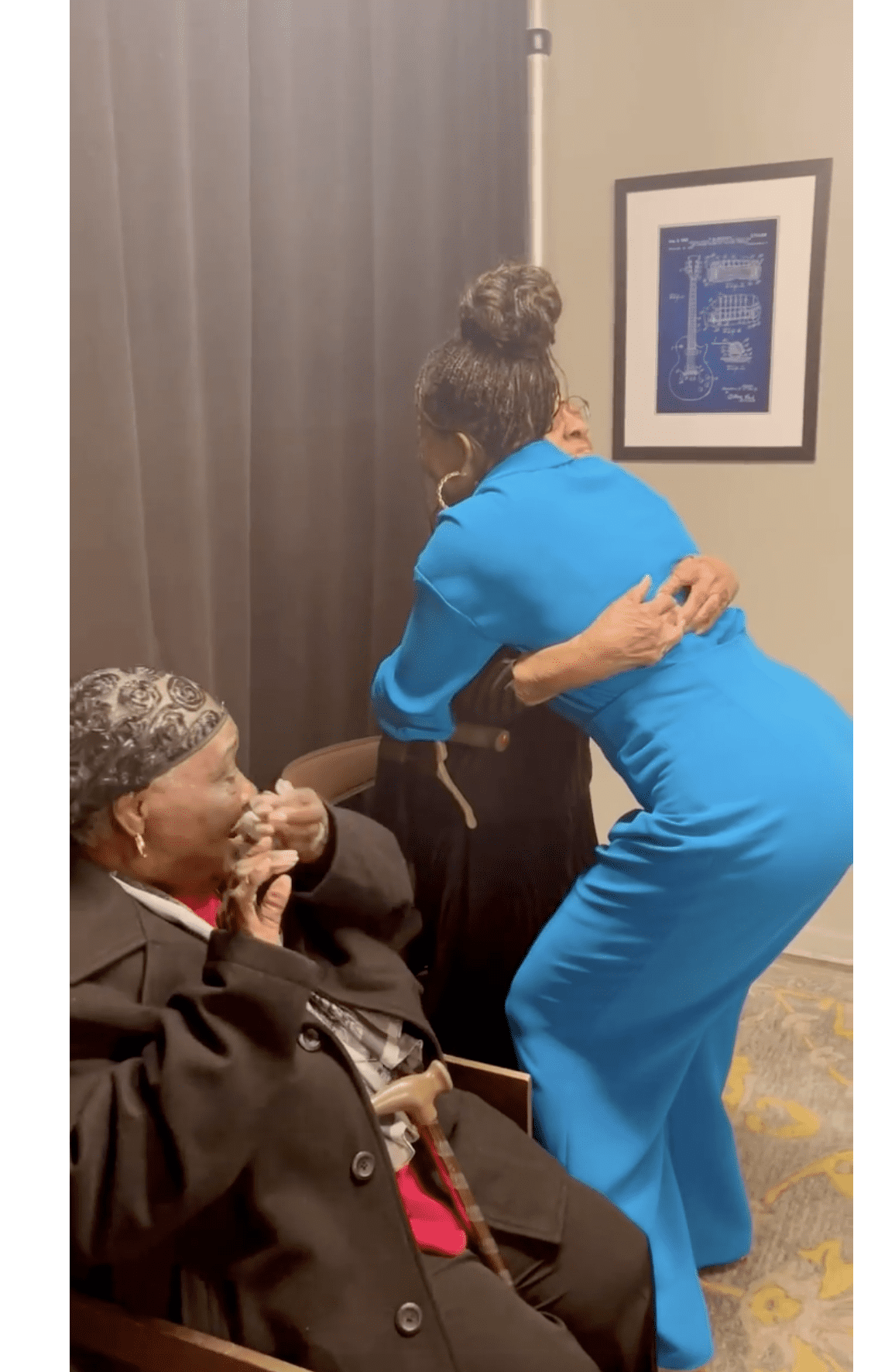 Johnnie Devlin couldn't hold back her tears as she saw Michelle Obama embracing her sister, Eloise Brown. | Source: facebook.com/michelleobama
A Heartwarming Surprise
To Brown's astonishment, her birthday wish was on the verge of being realized in a way she had never thought possible. Soon after the almost-centenarian shared her desire with family and friends, the news reached Obama's crew, who decided to do something to make things happen.
Obama was set to appear on The Met's stage in Philadelphia on the night of Saturday, November 19, 2022, to promote her new book, "The Light We Carry." She attended the event as part of a six-city tour and sent tickets to Brown and her sister, Johnnie Devlin, 95.
After finishing her speech on stage, Obama treated Brown and Devlin, who were part of the audience, to a heartwarming surprise. The former First Lady and her daughter, Malia, had an exclusive meeting with the Philadelphia siblings, whose faces immediately lit up upon seeing their idol. Brown recalled:
"It was my one only gift that I wanted for my birthday. I can't even describe it. Absolutely wonderful. All I wanted to do was just shake her hand and I did it (sic)."
Meeting Her Idol
Even more heart-melting was that Obama reciprocated Brown and Devlin's excitement and walked over to embrace the ladies. She sat down with the sisters and had a sweet exchange that would always remain etched in Brown's memory for the rest of her life.
Obama posted the video of their lovely meeting on social media on November 20. The caption read, "If I make it to 100, I hope I look as good as you, Eloise. So great meeting you and your family in Philly."
Looking back on hugging her favorite person and talking to her, Brown appreciated everyone who helped make her dream come true. She described her 100th birthday as the best one she had ever had and said she would never forget the touching moment.
The Online Reaction
Brown officially became a centenarian on Tuesday, November 22, and from how things turned out, she had an unforgettable birthday that would always remain a highlight in her life. In addition to touching Brown and Devlin's hearts, the phenomenal story also captivated several netizens. Here are a few comments that they shared:
"I cannot help but feel good and smile when I see the Obama's interact with people. These two beautiful ladies and the joy they feel is so cool. Thank you for being truly genuine (sic)!!!!"

— (@louiseb) November 20, 2022
"Thank you [Michelle] for honoring your elders this way."

— (@pat.agee.773) November 20, 2022
"Yeah, I love that First Lady Obama took time out to Honor these beautiful women!! To live to be 100 years old is a blessing (sic)!!"

— (@gwendolyn.taylor.90) November 20, 2022
"I am so happy for MomMom (Eloise Brown). Her birthday party was amazing, but this was her only wish. This precious memory topped it all off (sic)."

— (@toireedtheriot) November 21, 2022
"So heartwarming! This makes me smile."

— (@judy.jordan.9256) November 20, 2022
It was, indeed, touching to see Brown meet her idol and have her heartfelt wish come true for her 100th birthday. If you enjoyed reading this story, we would love your feedback on Facebook.
In the meantime, you can click here to read another story about a 100-year-old woman arrested by the cops on her birthday at a nursing home to fulfill her wish.
Please fill in your e-mail so we can share with you our top stories!