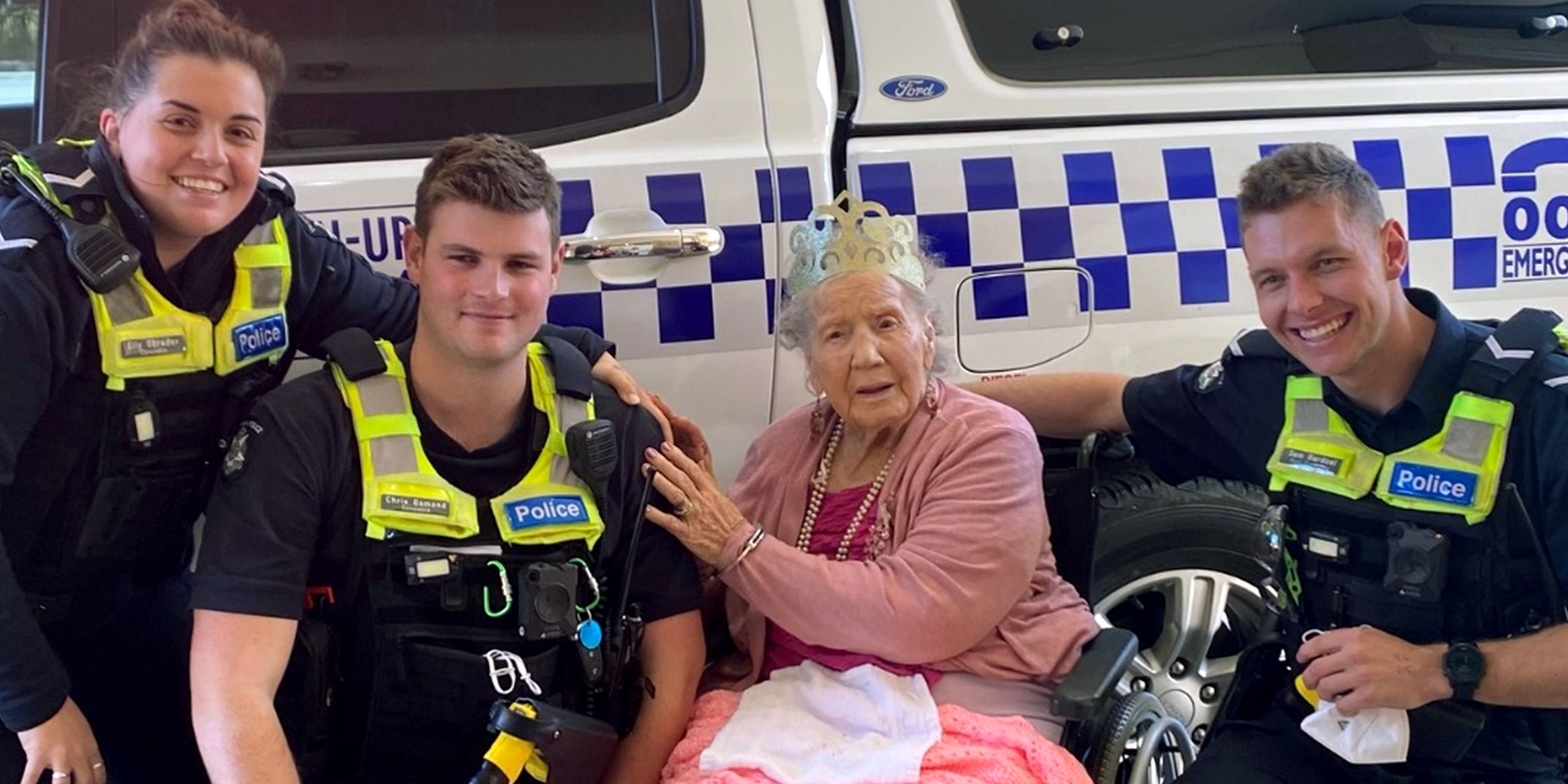 Facebook.com/victoriapolice
100-Year-Old Woman Is Arrested by Police on Her Birthday at a Nursing Home to Fulfil Her Wish

Most people have bucket lists full of activities and places they want to check off. These usually include trips to idyllic locations and thrilling actions like bungee jumping or skydiving. However, one woman had a peculiar wish she hoped would come true.
Ticking items off one's bucket list is exciting, but many people never live to turn their desires into realities. Life is short, and older adults aren't able to see and do everything they dreamed about during their youth.
Fortunately, for a 100-year-old woman, her wish was still possible. The centenarian needed help from the police to fulfill her unusual longing. Read her story and discover how she felt after cops made her birthday dream come true!
HER UNUSUAL BIRTHDAY WISH
Former nurse Jean Bicketon lived a long and fulfilling life. She had worked in the army for decades and was, by all accounts, a law-abiding citizen.
The other residents at the care facility were briefed about the one-of-a-kind occasion so nobody would experience stress or worry that someone was in trouble.
When people asked Bicketon what she wanted for her 100th birthday celebration in 2022, her answer shocked them.
The centenarian had her party at Narracan Gardens Residential Aged Care, and a team ensured her odd desire became a reality. Three cops arrived in police cars during the festivities, flashing lights and sounding their sirens. They were there for Bicketon!
THE POLICE WANTED TO MAKE HER DREAM COME TRUE
Bicketon had never broken any laws in her 100 years and always wondered what it would feel like to be arrested. She explained: "I've never been arrested, never lost my driving license, and never had an infringement."
When the officers at Moe station, Victoria Police in Australia, heard her story, they were eager to help. On their Facebook page, they shared that they were happy to "arrest" Bicketon. The post stated:
"For many, getting through life without being arrested is a pretty good run. An obvious one we would like to think. But for former nurse Jean Bicketon - getting arrested was on her bucket list."
THE BEST BIRTHDAY CELEBRATION
The other residents at the care facility were briefed about the one-of-a-kind occasion so nobody would experience stress or worry that someone was in trouble. The surprise was undoubtedly worth it for the 100-year-old who had the time of her life.
The officers gently placed her in handcuffs, and she didn't resist the arrest, smiling from ear to ear. She was surprised by the softness of the cuffs and added, "They were too big for me anyway."
The station was delighted by the encounter and wished Bicketon a happy birthday. They said:
"According to [Bicketon], it was one of the best celebrations, and we're glad we could help make it memorable. Thanks to everyone that made this possible."
THE ONLINE REACTION
The sweet gesture garnered lots of attention online. Netizens applauded the police and thanked them for making a senior citizen's day. Users were also appreciative of the positive story, and some shared similar incidents:
"I once knew of an elderly aged care resident who would leave the facility he was in because he loved getting picked up by the police. He would always be returned with a big smile on his face."

- (Tracey Allan) August 22, 2022
"Beautiful, thoughtful, and touching that these young men and their commanding officers gave so generously to this lady. [There] should be more of you guys out there."

- (Marie Fabry) August 22, 2022
"That has just made my day. What a wonderful thing for the police to do, and now this lovely lady can tick the arrest off her bucket list."

- (Diane Cuffe) August 22, 2022
"Thank you for sharing, just the happy tears and laugh I needed for the morning! This may be me on my 100th birthday if I'm lucky enough to live that long. Happy 100th birthday, Jean, and well done, constables, on making a lady's dreams come true."

- (Julie Walker) August 22, 2022
The team at Victoria Police went above and beyond their call of duty to make one woman's day. She would cherish the memories, and her story filled many people with joy and positivity. What do you think about her unique birthday wish?
Click here for another story about someone who had a special dream fulfilled. A loving brother helped his dying sister by taking her to his prom.
Please fill in your e-mail so we can share with you our top stories!