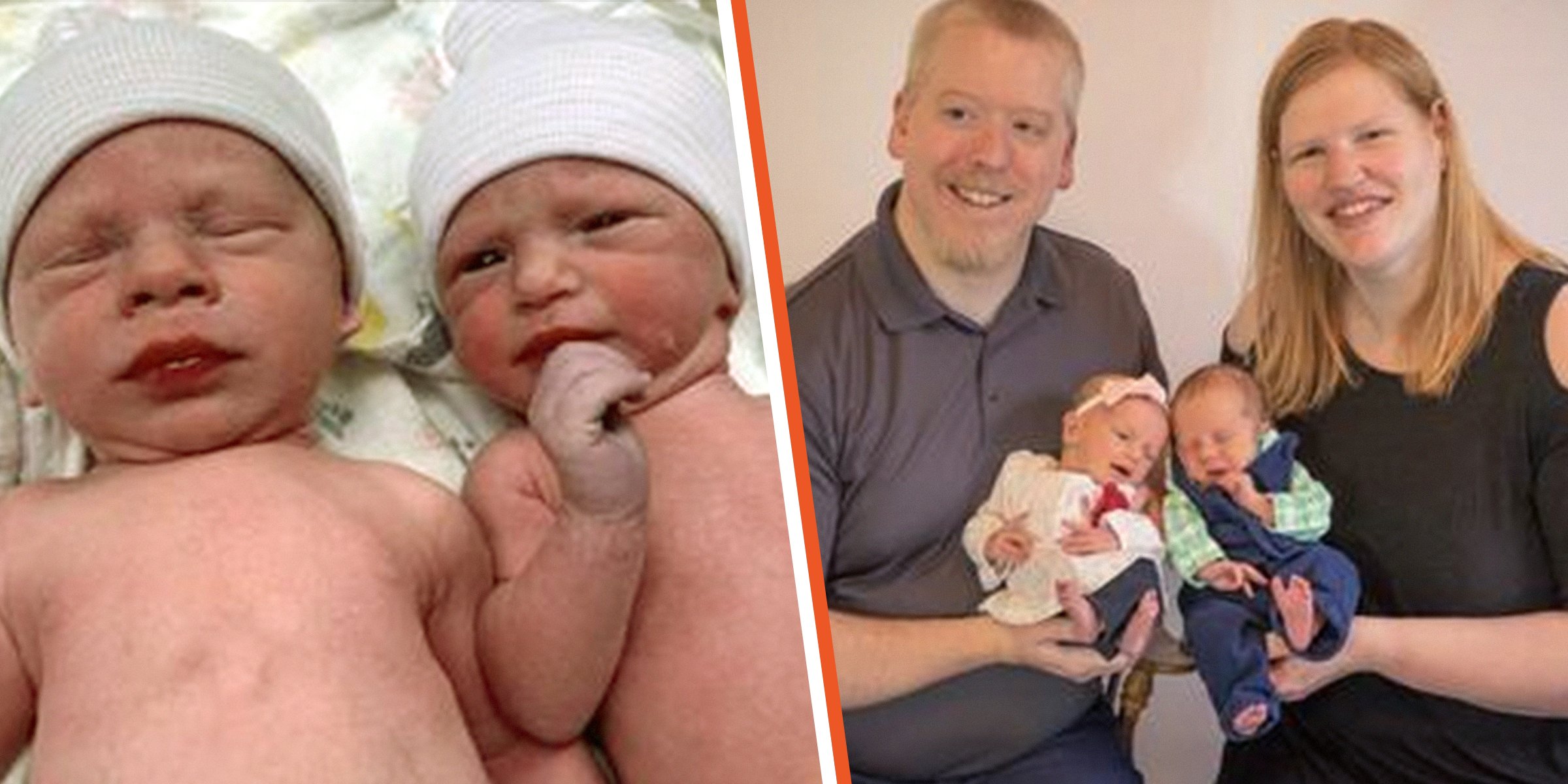 Lydia and Timothy | Philip and Rachel Ridgeway with their twins | Source: facebook.com/peoplemag | facebook.com/wjhlTV11
Oregon Parents of 4 Welcome Twins from Embryos Frozen 30 Years Ago, Breaking Us Record

A couple from Oregon is believed to have broken the American record for welcoming the oldest embryos resulting in a live birth. Already parents to four kids, they opted for embryo adoption after expressing a desire to grow their family with as many babies as God wanted to give them.
Rachel and Philip Ridgeway, from Portland, Oregon, were parents to four children, aged between 2 and 8 when they decided to expand their family. While none of their kids were conceived via donors or IVF, they felt it was time to do things the non-conventional way.
On October 31, 2022, the couple welcomed two new additions into their hearts and home, Lydia and Timothy Ridgeway. In many ways, their newborns were special, and so was the journey of bringing them into the world.
Born Healthy
As it turned out, the twins were born from the longest-frozen embryos resulting in a successful birth, as the National Embryo Donation Center reported. Little Lydia arrived at 5 pounds, 11 ounces, while her brother, Timothy, weighed 6 pounds, 7 ounces at the time of birth.
Unable to hold back her tears, she told the doctor she wanted to have them all.
A Mind-Boggling Experience
The Ridgeways said their babies were good-sized and healthy and thanked God for sustaining them every step of the way. As the happy parents looked back on their journey with love and gratitude in their hearts, Philip noted that he was only five when God breathed life into his newborns.
He called the experience "mind-boggling" and noted that in a way, his adorable little twins were actually his oldest children. Both he and Rachel couldn't stop gushing and doting on their adorable angels as they held them in their warm embrace.
Embryo Donation
The twins were reportedly born from embryos created for an anonymous married couple using IVF and said to be frozen on April 22, 1992. After staying stored at 200 degrees below zero in a lab till 2007, they landed in a fertility center in Knoxville, Tennessee.
It was reported that the embryos came from a 34-year-old egg donor and a man in his 50s who decided to donate them so another set of parents could revel in parental bliss and complete their family.
God's Plan
When the Ridgeways heard about embryo donation, they said they immediately felt something change within them. Philip mentioned that he and his wife never planned on having a particular number of kids. He added:
"We've always thought we'll have as many as God wants to give us."
Their True Calling
While doting on her babies, Rachel recalled that her doctor, John Gordon, showed her a photo of three embryos and suggested that only two be transferred to her to avoid complications in pregnancy. Unable to hold back her tears, she told the doctor she wanted to have them all.
In March 2022, the three embryos were transferred into Rachel, 29 years and ten months after being frozen. Out of them, only two were successful. The Oregon parents stated that growing their family was their true calling, and even their older children were involved in the process from the beginning.
Breaking a Record
In an interview with CNN, Philip shared that he and his wife weren't searching for the embryos that had been frozen the longest, but instead, they wanted the ones that had been waiting for a long time. Rachel revealed that it was purely God's plan that they found their little ones at the right time.
The couple's bundles of joy broke the previous record for oldest embryos resulting in a birth held by Molly, who was born to the Gibsons in 2020, over 27 years after her embryo was first frozen. At the time, she beat the record held by her sister Emma, who was born from an embryo frozen for almost 24 years.
Netizens React
Rachel and Philip's heartwarming yet awe-inspiring story received praise and appreciation from netizens far and wide and many left encouraging comments for the couple and their little angels:
"Youngest looking 30 year old I've ever seen (sic)."

— (@Elizabeth.Hogan21) November 22, 2022
"They are so cute, congratulations to the happy couple (sic)."

— (@mihlonti.mokoena) November 22, 2022
"Incredible! Some don't believe ART is God's work too but I do (sic)."

— (@100004804185927) November 22, 2022
"Good things come in good time so does good people, bless these young babies (sic)."

— (@dawn.deer.37) November 22, 2022
What are your thoughts on this story? If you enjoyed reading it, please take some time to share your valuable feedback with us on Facebook. Click here to read more about Molly's story and how she filled her parents' lives with endless love and joy.
Please fill in your e-mail so we can share with you our top stories!
The information in this article is not intended or implied to be a substitute for professional medical advice, diagnosis or treatment. All content, including text, and images contained on news.AmoMama.com, or available through news.AmoMama.com is for general information purposes only. news.AmoMama.com does not take responsibility for any action taken as a result of reading this article. Before undertaking any course of treatment please consult with your healthcare provider.