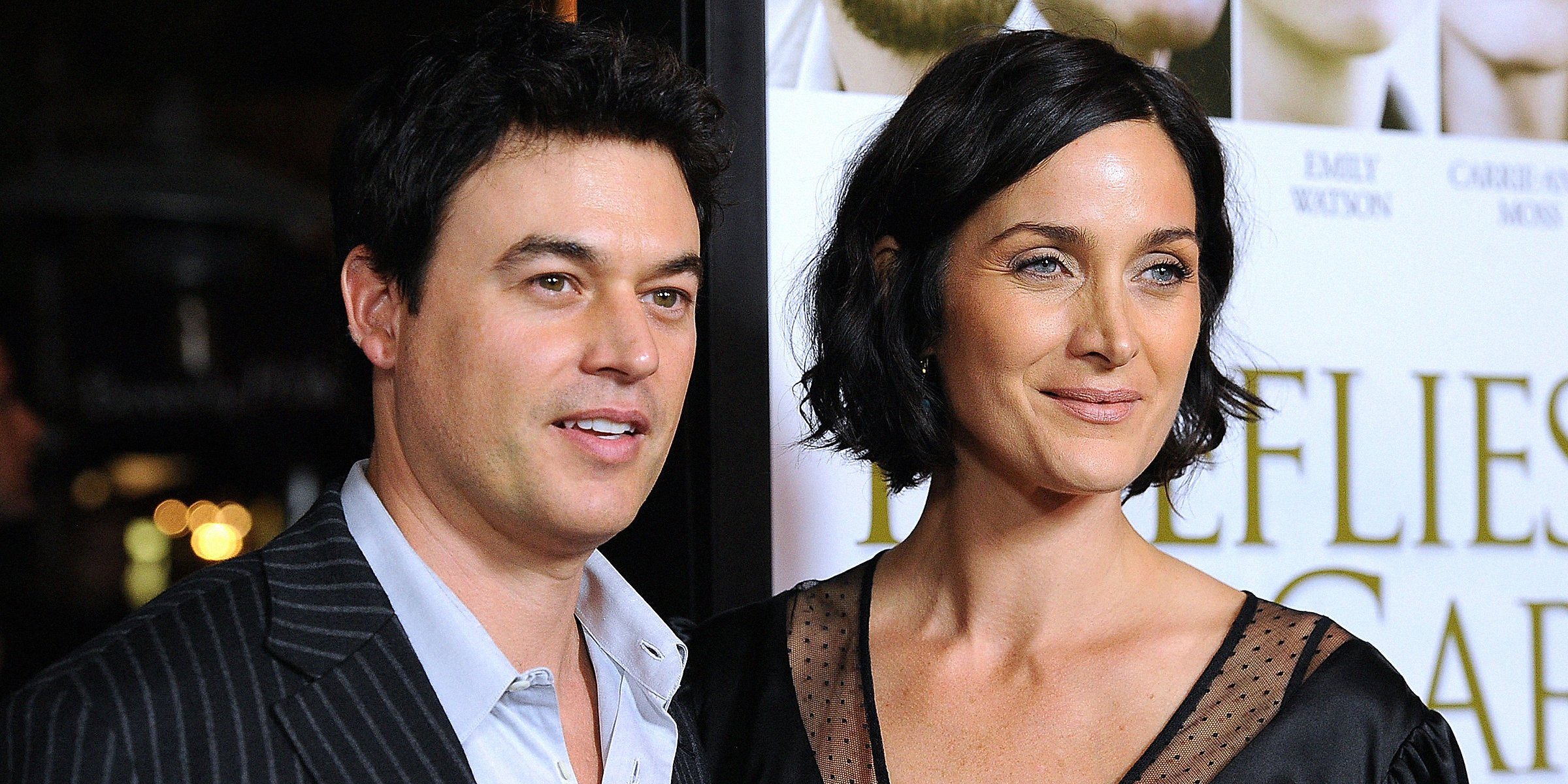 Steven Roy and Carrie-Anne Moss┃Source: Getty Images
Carrie-Anne Moss Has Been Married to Steven Roy for 23 Years, Yet He Keeps a Low Profile
Movie actress Carrie-Anne Moss rose to stardom as Trinity in "The Matrix" films. The blockbuster franchise grew into a brand, and one would have figured Moss's career would take off quickly. However, things panned out differently for her.
Things turned out so unexpectedly that people wondered where she was as she quietly disappeared from the big screen after the first movie came out in 1999.
Moss touched on her hiatus in an interview with GQ in December 2021 and said it was laughable that some believe Hollywood turned against her since "The Matrix."
"Somebody sent me one thing, a video someone had made. 'What happened to Carrie-Anne Moss? Why did Hollywood turn their back on her?' Or something like that. I was like, 'funny!'" said Moss.
The Canadian native explained that she ditched showbiz to become a full-time mom. She has two sons and a daughter: Frances, Jaden, and Owen.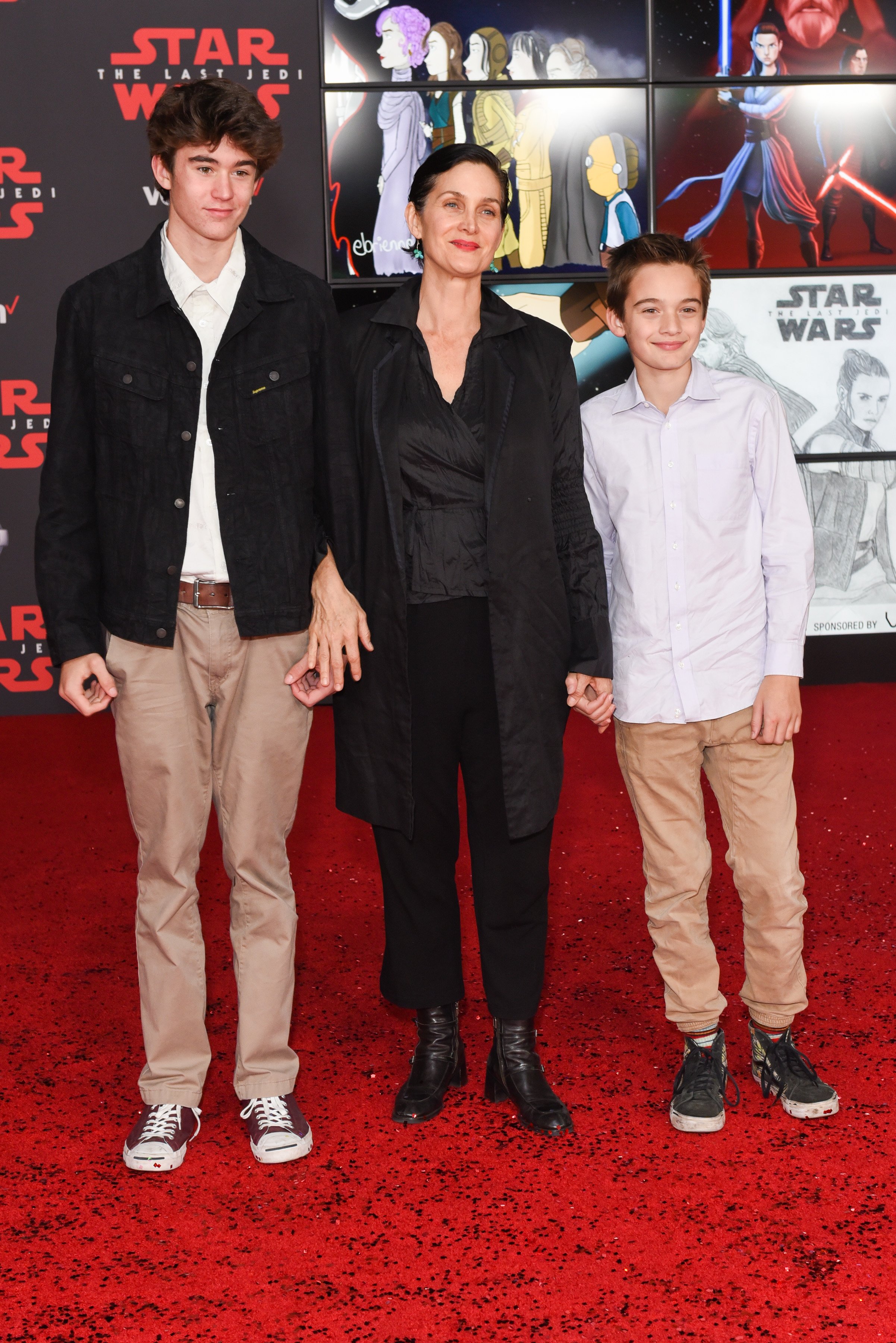 Carrie-Anne Moss and sons Owen and Jaden attend the premiere of "Star Wars: The Last Jedi" at The Shrine Auditorium on December 9, 2017 in Los Angeles, California┃Source: Getty Images
Moss fell pregnant with her first child while filming "The Matrix Reloaded" and had two more kids soon after – retreating to a life she dubs "cozy-cozy." Of her brood, she stated: "I had kids, and I wanted to be with them."
On top of being a parent, she became more invested in training to become a Kundalini practitioner. It was not until 2016 that Moss decided it was time to step back into the spotlight as she got cast in the Marvel series, "Jessica Jones."
Who Is Her Low-Profile Husband?
Moss has been married to the father of her kids, actor Steven Roy since November 11, 1999. The couple had their first son, Owen, in September 2003.
Moss and Roy welcomed their second son Jaden, in November 2005, followed by their only daughter, Frances, in June 2009.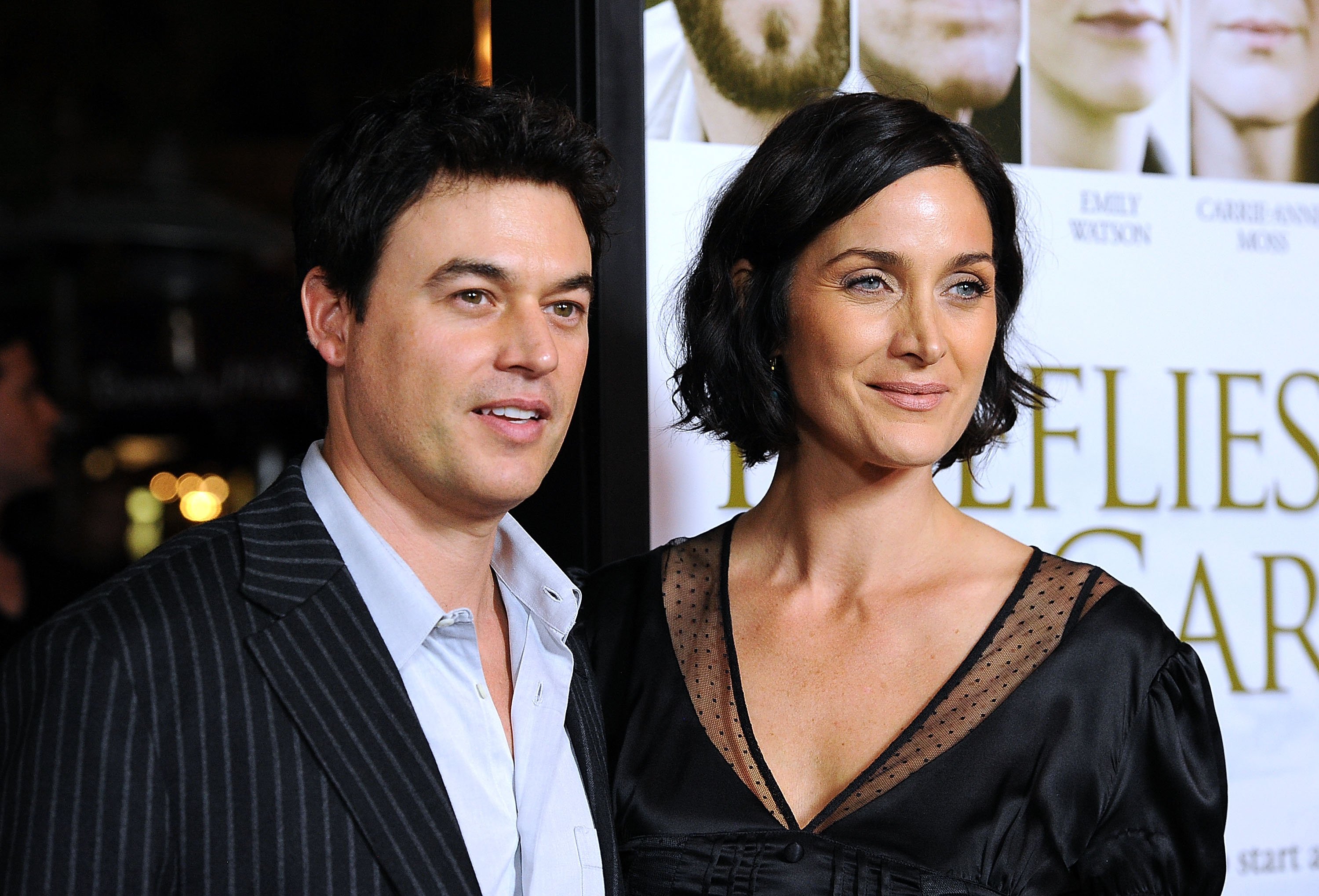 Steven Roy and Carrie-Anne Moss arrive at the premiere of "Fireflies In The Garden" at the Pacific Theaters at the Grove on October 12, 2011 in Los Angeles, California ┃Source: Getty Images
Like his wife, Roy is also a Canadian native and is best known for films including "The Matrix Resurrections" (2021), 2007's "A Butterfly On A Wheel," and "Roswell" (1999).
Carrie-Anne Moss and Keanu Reeves Are "Matrix" Soulmates
Though she is married to the love of her life in real-life, Moss and her co-star, actor Keanu Reeves are considered "The Matrix" soulmates onscreen.
The duo developed a close friendship while filming the movie franchise. Moss and Reeves' creativity and genuine emotional connection bonded them over the years since making the first installment two decades ago.
The pair reunited for "The Matrix Resurrections" in 2021 to explore more of their love story in the false realities featured in the movie. Off-camera, Moss and Reeves have reputations for being down-to-earth and reserved individuals who enjoy making films while keeping their privacy.
Moreover, while Moss is the female lead in all the "The Matrix" films, the sequels also introduced another female star, Jada-Pinkett Smith. Both women and Reeves share a close bond.
When the trio reunited to make and promote "The Matrix Resurrections" on the press tour, Reeves and Moss stopped by Smith's "Red Table Talk." He and the talk show host share a connection that goes back to making the original trilogy. Reeves revealed:
"We've kept in contact over the years and had some big moments where we've come together."
Meanwhile, Smith described their bond: "I think for us being two Virgos, there's kind of like this unspoken communication. It's like; I can sit with Keanu in silence and get filled with so much. And he's one of the few people that I can do that with. And I can have the greatest time."
During the interview, Moss also shared that Smith was a source of inspiration in her motherhood journey. She revealed her fellow actress supported her through her first pregnancy.
Smith was already a mom to son Jaden and daughter Willow before filming "The Matrix Reloaded" and "The Matrix Revolutions." Moss even had the opportunity to spend time with her kids on set.
"I love watching you [Jada] with your children because I had always had the dream of being a mother. In our business, you don't see women doing it – you don't get to see both. The fact that you allowed me to see you do it just opened my mind that it was possible to be there for your children in the way that you were while you're training and you're nursing," said Moss.
Please fill in your e-mail so we can share with you our top stories!