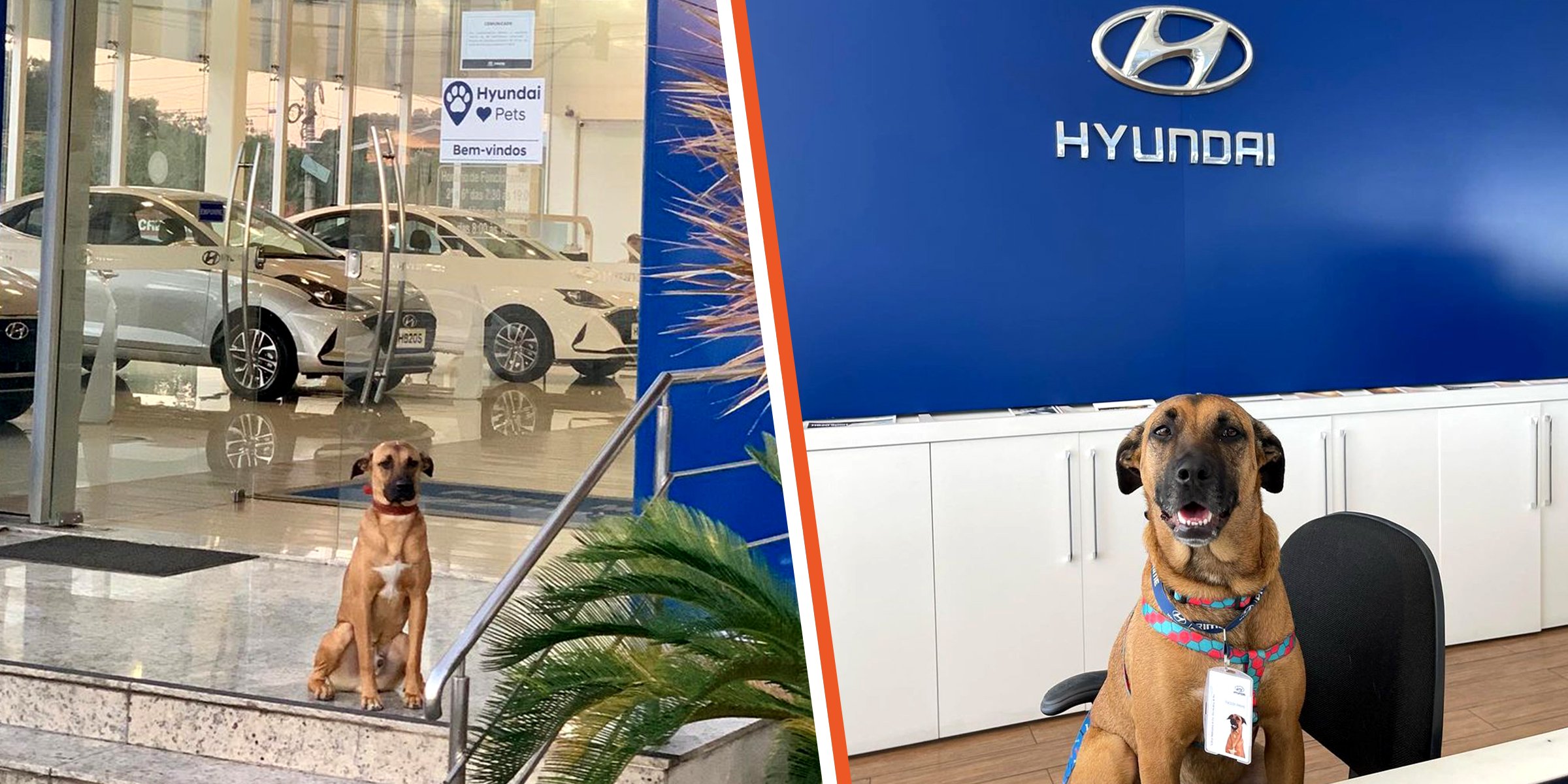 Stray dog at Hyundai dealership | Source: instagram.com/tucson_prime
Stray Dog Keeps Coming to Hyundai Dealership Every Day, Gets Hired as a Consultant Winning Clients' Hearts
In this series of heartwarming stories, stray animals are given a better shot at survival and at living comfortably, thanks to the kindness of people who have gotten used to their presence.
Pets make lovely companions at home and are a great source of happiness, love, and unlimited cuddles. But when these animals are found on the streets, some people often turn a blind eye and pretend like they don't exist.
Stray animals are always on the lookout for food and shelter, fighting for survival, and when they show up at the doorsteps of establishments, the tendency is to drive them away.
Certain establishments, however, have acted upon the presence of stray animals in their area not in the way other people expect. In fact, these establishments decided to take the animals in and hire them!
1. A Cat Working at a Law Firm
Humans go through years of education and even need to pass the bar in order to become a lawyer. However, a cat named Leon skipped all the hardships of becoming one when a Brazilian law firm officially hired him as its "cattorney."
Leon was like any other stray cat in Brazil, roaming the streets hoping to get food. One day, he walked into the Order of Attorneys of Brazil building, and his life changed for good.
As Leon hung out in the reception area, it felt too close for some people's liking. They filed complaints about the cat's presence, and the OAB decided to do something about it.
Instead of relocating Leon, the OAB made it clear that Leon was there to stay. Dr. Jeanette Laredo set the record straight, saying:
"Unfortunately some people started to file some complaints about the fact that at the reception desk there was a stray cat hanging around and trying to make friends with the newcomers. In order to avoid some new complaints the board gave the solution: Hire the cat as an employee."
Since then, visitors had no business complaining about Leon's presence since he was officially employed by the OAB. In fact, he even has his own ID hanging from his neck collar.
2. From Starving Homeless Dog to Pet-Friendly Restaurant Critic
From being homeless and starving, this particular dog, Popeye, now experiences all the luxurious perks of being a pet-friendly restaurant critic in Los Angeles.
In January 2014, Popeye's fur mama, Ivy, found him weak and skinny in the streets of LA. She decided to rescue him, and he immediately adapted to his new home.
Ivy enjoyed going to restaurants with her friends. Once, she took Popeye with her and realized how good he was around food. In fact, the pooch would even sit still in front of the food for photos!
Since then, Ivy kept bringing Popeye to pet-friendly restaurants and documented their outings on his own Instagram account called "Popeye the Foodie Dog." The account features Popeye's adventures, posing with plates of delicious food like steak, donuts, and even sushi!
Before critics could say things about their food trips, Ivy assured them that Popeye only nibbles on anything that's considered safe for dog consumption. She carries a bag of the pooch's favorite treats, as he usually doesn't like the food in front of him.
"He just likes to be out and about—people watching, and to bark at any other dog that walks by," his owner clarified. Now that's one well-traveled pup!
3. A Cat Security Guard at a Hospital
Every day, hospital workers and patients alike are greeted by the most hospitable security guard – Elwood, the cat. For over a year, the cat hung around the hospital grounds and he was no longer just a stray cat. Hospital workers considered him a co-worker and took steps to make sure he felt that way, too.
One day, Elwood was spotted with not just his usual tiffany blue collar but an employee ID badge! He was officially a part of the hospital security team, with a badge that was identical to actual staff badges, down to the call codes written at the back.
Despite being considered a full-time employee, Elwood's daily routine never changed. He still greets people by the front door, waiting for head pats, and takes breaks in the bushes, enjoying the heat of the sun.
4. Stray Dog Gets Consultancy Job at Hyundai Dealership
They say that when getting started, showing up is the most important thing you need to do. People can learn a thing or two from Tucson Prime, the stray dog from Brazil who showed up at a Hyundai dealership every single day only to get hired after a certain time.
The Hyundai dealership decided to take advantage of Tucson Prime's constant presence in the area by giving him an official role as a "paw-fessional consultant."
Named after the car manufacturer's compact SUV, Tucson is now an integral part of their team, swaying people to purchase cars by warming their hearts with his wagging tail and fiercely loyal eyes.
More than his powerful presence in the dealership, Tucson Prime also has over 193,000 followers on his Instagram account which his co-workers are managing.
At the dealership, Tucson is treated like a regular employee, even giving him an official ID with a lanyard featuring his adorable photo.
It wasn't just Tucson's co-workers who enjoy his presence and rapport with the team. The store's clients also had pleasant experiences with him, and some of them even returned to the dealership, not for after-sales inquiries, but to drop off gifts for the pooch!
Overall, the team credits Tucson for improving its store's environment. Thanks to his energy, they look forward to working every day, and it's the same warm experience for the clients that walk into their store.
Tucson enjoys sealing deals with clients, many bringing their pets to the dealership when they purchase cars so they can meet Tucson. He is an internet star that draws in a crowd, and it couldn't be more beneficial for the dealership!
5. Fluffy California Mayor
This adorable dog became the mayor of Idyllwild, California, at only 11 weeks old! He spent every day engaging with constituents and rallying for his advocacy of, hopefully, one day, seeing peace on Earth.
Maximus Mighty-Dog Mueller II was a golden retriever on a mission. He was appointed mayor of Iddylwild-Pine, an unincorporated town without a local government.
His chief of staff and human aid, Phyllis Mueller, acted as spokesperson for the dog when he said his goal was "to make the world a better place by conveying unconditional love and doing as many good deeds for others as possible."
The Muellers headed out every day to spread happiness, with Max II wearing his signature hat. Residents were always delighted to meet their "mayor," who openly supported local businesses and charities, participated in local events such as the Fourth of July parade, and visited organizations and homes in their community-oriented town.
Max II joins the extensive list of canines being government officials, which includes Duke the dog, who was a mayor in Minnesota, Stubbs the cat, who was a former honorary mayor of Talkeetna, Alaska, and a series of goat leaders in Lajitas, Texas.
6. A Guinea Pig Working at the Police Department
We see instances of cats and dogs getting jobs, but rarely do we hear about guinea pigs getting hired, especially by a police department filled with large dogs! However, a guinea pig named Elliott was named a police department's media spokesperson, playing a vital role in the office.
The 4-year-old guinea pig lived with his family at home, and one of his parents worked on the media team of the New Zealand Police Department. Looking for ways to get people to listen, she decided to bring Elliot to work for a very important mission: to spread awareness on important issues like safe driving and theft.
Elliot is meant to remind adults about being responsible citizens, using his small size to raise awareness of the children who roam the streets as well. One of his cute but important messages read:
"Remember people, the kids are going to be out and about walking and biking, and crossing roads. Like me, they are small and unpredictable, so you have to watch out!"
Well-loved by his colleagues, Elliot was given his own police uniform to wear, which includes a small hat and a miniature version of the harnesses that police dogs wear. The department is happy with how Elliot has helped them efficiently communicate with their constituents, including sending important prevention messages.
Whenever Elliot isn't working, he is at home lounging with his family, enjoying green vegetables and hugs. Everyone over at New Zealand police knows and loves Elliot and hopes he continues to help spread awareness on safety measures.
It's not every day you hear about animals landing jobs in the human world, but it's definitely becoming a common practice worldwide. It's a great way to raise awareness on pet rescues and adoption, as these stories show, giving animals a shot at living better lives and, hopefully, inspiring others to do the same.
In another inspiring story, a hero dog saves the life of an autistic boy stranded in flood waters. Click here to read all about it.
Please fill in your e-mail so we can share with you our top stories!