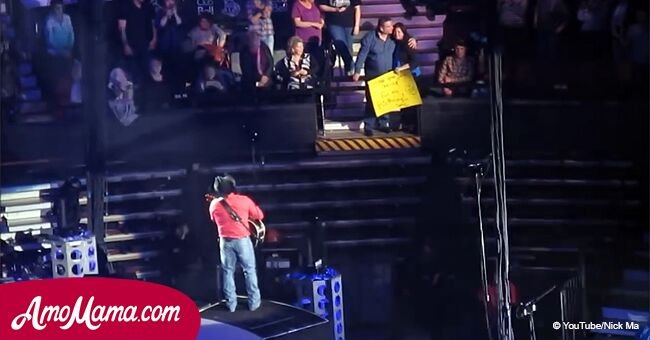 Garth Brooks asks a woman if she's a mom. She answers her son died and singer stops concert

Garth Brooks shared a touching moment with his fan during a concert.
As reported by Do You Remember, the 55-year-old country singer noticed a fan in the crowd name Sophie who was holding up a sign. That day was her birthday so Garth had the audience sing "Happy Birthday" to her.
When Garth looked closer at the sign, he noticed that the fan was requesting a song. She's asking him to sing a song off of his album called "Mom."
Then he asked if she was a mom, The adoring fan replied that she had lost her son, Antoine, when he was only 3 years old on September 23, 2011.
Though her response shook him, the Unanswered Prayers singer responded with a beautiful thought.
"It should never go in that order. So let's sing this, cause where babies come from, that's where babies go to," Do You Remember quoted Garth Brooks as saying.
Then he began serenading her directly.
Sophie was overwhelmed by the moment and even commented on a Youtube video uploaded by a fan.
'The most memorable birthday I could ever ask for! Thank you Garth Brooks, Gary for taking me to the show for my birthday, to the fan who took this video.'
Sophie explained that she couldn't even remember half of what happened because she was so stunned.
Sophie had requested to Antoine and God in a prayer before the show that Garth sings the song for her, she added.
She described Garth as nothing short of a class act and that she loves the quality of his heartfelt lyrics.
Garth has had great success on the country single and album charts.
He is the best-selling solo albums artist in the United States with 148 million domestic units sold, according to RIIA.
He is also one of the world's best-selling artists of all time, having sold more than 170 million records.
Please fill in your e-mail so we can share with you our top stories!