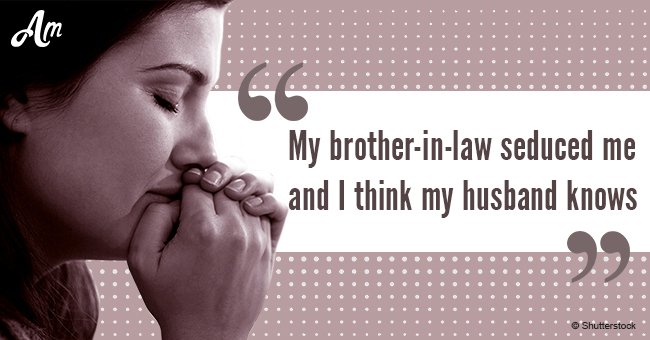 My brother-in-law seduced me and I think my husband knows
I have been married for 12 years to a very nice and steady man, but lately, I have been feeling restless. I have just turned 40, and I am still a good looking woman, but my husband seems to be paying less and less attention to me.
My husband was never a very exciting man, but he has been a good provider and a great father to our son. The problem is that a few weeks ago my brother-in-law came to stay with us.
He was always the black sheep of the family, and he has now lost his job, and his wife divorced him. He is also a very attractive and charming man. He is always around the house, talking to me, and the electricity between us is incredible.
Two days ago he walked into the bathroom while I was in the shower and he kissed me. I felt like I never did with my husband, and now I can't get that kiss out of my mind.
I want to take the next step, but I am afraid my husband will find out. I signed a prenup that stipulates I get nothing if I fool around, and I don't think he would forgive me an affair with his brother like he forgave some of my other past mistakes.
My brother-in-law convinced me to spend an afternoon with him in a motel, and now he wants more. I am finding it harder and harder to resist him. What should I do? I have a feeling my husband knows, and though I want to feel alive and sexy again, I am afraid I will lose everything if I give in.
If you need help or advice, reach out to us, and thousands of women just like you who are struggling with the difficulties of life. You are not alone, we are here for you, and we listen; so write to us anonymously using this form.
Please fill in your e-mail so we can share with you our top stories!