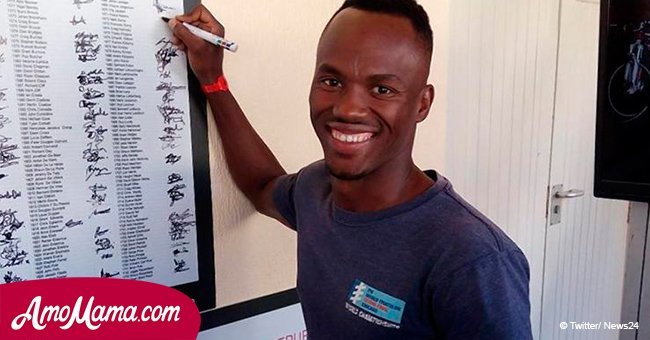 Star athlete was brutally injured by attackers who used a chainsaw to try cut off his legs

The 27-year-old triathlete, Mhlengi Gwala, was attacked while cycling to a training session. His attackers tried to cut his legs off with a chainsaw.
The attack took place on March 7, 2018, in Durban, South Africa. The group of attackers dragged Gwala from his bicycle and used a blunt blade to saw into his right leg.
As reported by Faith Family America, they missed the main artery, and specialists say the leg can be saved. Muscles, nerves, and bone in his right leg were damaged.
Dennis Jackson, the director of an elite training program in Durban, said the assailants also started to cut into his left leg but fled the scene soon after.
Gwala managed to crawl to a nearby road, where he was spotted by passersby and rushed to the hospital for emergency treatment.
Gwala, like many other top athletes in Durban, train during the early morning hours when the roads are quiet, and few pedestrians are out and about.
Following his attack, other athletes are hesitant to train alone. Time reported that there was no explanation for why Gwala was targeted.
Gwala thought he was being robbed, and offered his bicycle and wallet to the assailants, 'who still went for his legs,' Jackson said.
He is described as a 'wonderful ambassador for the sport,' and those close to him said they are not aware of any enemies he may have had.
His friend, 2016 Olympic medalist Henri Schoeman, took to Twitter to express his outrage. He said the incident was 'absolutely disgusting' and asked 'How safe are we on SA roads?'
Henri later tweeted that it was not a robbery, and that police 'are investigation attempted murder.' He updated his followers on Gwala's condition, saying he is 'well and in good spirits.'
Gwala is an inspiration and model to many. He achieved great success as an athlete after overcoming substance and alcohol addiction.
Please fill in your e-mail so we can share with you our top stories!