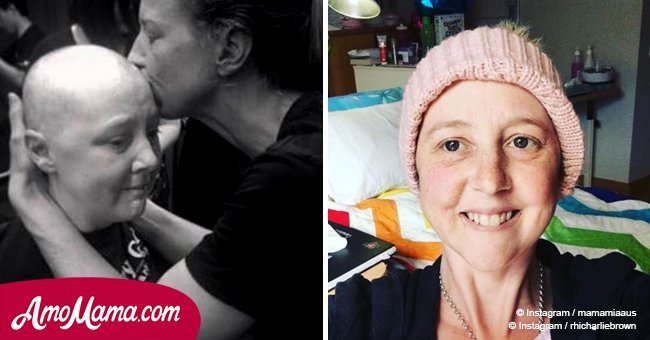 Connie Johnson has tragically died at age 40, just hours after receiving prestigious award

Connie Johnson has raised more than $5million towards what she called 'cancer vanquishment' and recently set a world record.
The Governor-General Sir Peter Cosgrove dropped by Connie's bed to award the mother-of-two a Medal of the Order of Australia in recognition of her tireless work for others battling breast cancer.
According to a The Breast Cancer Site report, in Connie's final public event for the charity, The Big Heart Project, thousands of people donated millions of five-cent coins to form a record-breaking silver heart.
Connie withdrew from the public eye in May 2017 to spend time with her family, after spending years raising millions of dollars for cancer research. She died at age 40, after 10 years of battle against the illness.
It is understood she was to receive the honor at next year's Australia Day awards, but, with Connie's time rapidly running out, the ceremony was brought forward.
Samuel Johnson set up the charity Love Your Sister when Connie was diagnosed with breast cancer with the aim of raising money for cancer research and encouraging women in Australia to be aware of the early signs of breast cancer.
When he was told that Connie's cancer was terminal he quit acting to devote his time to the raising funds for research, including the marathon of riding across Australia on a unicycle.
In an interview with The Project, Connie told the Channel 10 program about the heartbreaking moment she was told she could no longer undergo treatment. Connie said she was "terrified" of dying and the prospect of saying goodbye to her two young sons.
Connie, Samuel and their sister Hilde were raised by their father in Daylesford, Victoria. After battling bone cancer at 11 and for a tumor in her womb at 22, Connie was diagnosed with breast cancer in her early 30s.
In February 2016, Samuel announced his retirement from acting in order to help focus on Connie's fundraising efforts. He will return to his career now that his sister is finally resting in peace.
The Molly star's public profile helped pushed the charity's campaign center stage, including at April's Logie Awards, where he praised his sister's efforts while accepting the awards for Best Actor and the Gold Logie.
Please fill in your e-mail so we can share with you our top stories!