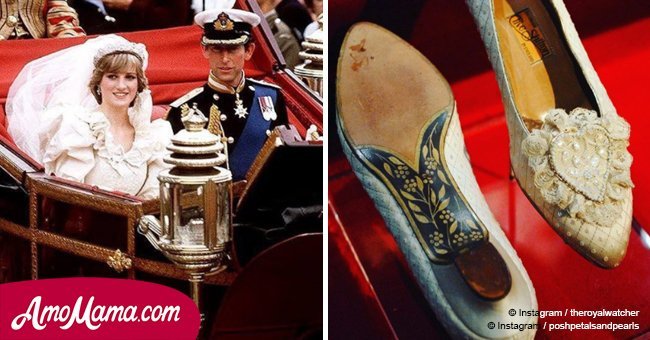 Remember Princess Diana's wedding shoes? There seems to be a hidden message on it
2017 marked the 20th death anniversary of the "people's Princess."
Celebrity shoe designer, Clive Shilton, revealed the secret about the shoes she wore while marrying Prince Charles in 1981, according to Voice.meaww.com
Princess Diana's friends and family shared some of their fondest memories last year, marking the 20th year of her death.
Fans also learned a secret about the shoes she wore for her wedding ceremony in 1981.
The shoes remained unseen and mostly hidden throughout the entire ceremony. However, they are believed to be extremely special
Designed by celebrity cobbler, Shilton, they remained under Elizabeth and David Emmanuel wedding gown. But Diana had taken special care while getting them made.
Shilton revealed that the Princess' main concern was that she shouldn't appear taller than Prince Charles. She was tall, standing an impressive 5'10", and she wanted the shoes to have a low heel. He added that she was a "very shy, sweet, smiley-eyed young girl."
The shoes were decorated with approximately 542 sequins and over a 100 pure pearls. Diana wanted an elegant heart-shaped pattern at the top of the shoe.
The shoes, which were made of suede, had a hidden message. The Princess had the letters 'C' and 'D' painted under the heel.
It is claimed that the pair of shoes took a total of six months to be made.
The maker said that though the bottom of the shoes was not seen by anyone, it was important that it looked fantastic.
He joked that people would have seen more of them had Diana tripped.
Shilton has not revealed the Princess' shoe size. He has also been secretive about the cost of the shoes, but one of the spare pairs were sold for a whopping $50,000 in 2011.
According to media reports during the time of Diana and Charles' wedding, there was a dispute over the original bill and Diana's mother, Frances Shand Kydd, is said to have refused to pay.
Shilton said that he only charged the Princess a basic price.
The designer made his own wooden mold for the shoe, refusing to let that be outsourced. Though he never got to see the actual wedding dress, the Emmanuels did send him a sample of the silk they were using in the hope that he would produce shoes of the same material.
Shilton did not use the same material as he felt it was too fine and that it would have crumpled across the instep. The weavers came up with a heavier silk satin.
The shoes were difficult to produce and required every single person in Shilton's workshop to help out.
Shilton, known for his high fashion handmade shoes and handbags, received a call from Elizabeth Emmanuel. She requested him to meet a special client.
Shilton was based in Covent Garden at the time and made a quick trip to Brook Street and found Princess Diana waiting to have her feet measured.
Please fill in your e-mail so we can share with you our top stories!