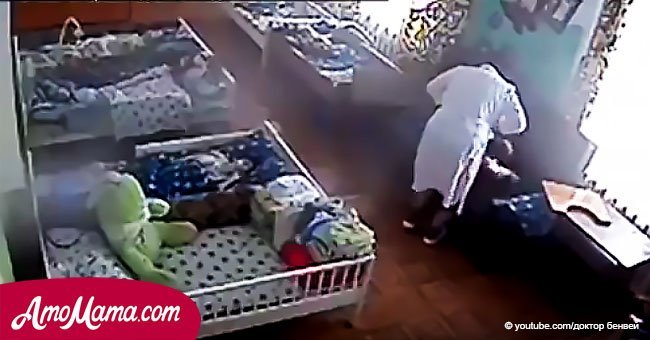 Nurse severely pinches a disabled baby. Camera records everything.
The majority of people would assume that every person who's part of a medical staff in a hospital should have values and tolerance towards their patients.
But this nurse forgot everything she learned about ethics at work and was ultimately caught on camera doing something atrocious.
According to Vaagustar.me, a nurse was recorded by a surveillance camera when she pinched and beat a disabled child in Tungusovo, Russia.
The same outlet also pointed out that although it happened last February, the police is still investigating what happened to press charges.
Their most important piece of evidence is the video, in which she can be seen committing the brutal attack against the helpless baby.
The images shown in the video could be pretty disturbing for some viewers, as it is completely absurd the fact that this person could treat a baby this violently.
In the video, the vicious caretaker can be seen holding the baby by his arms to then throw him violently on a bed that was close.
After that, she then proceeded to hit the baby, punching him two times to then throw him in a wooden cradle that was near them.
There are no words to describe the level of unprofessionalism shown by this caretaker, as she seemed to forget it was a disabled baby she was dealing with.
The Russian authorities later revealed that the baby suffered severe wounds due to the force of the woman's physical attack.
Although they have strong evidence to accuse the vicious lady, they need to wait for the mandatory investigation time to proceed.
Please fill in your e-mail so we can share with you our top stories!