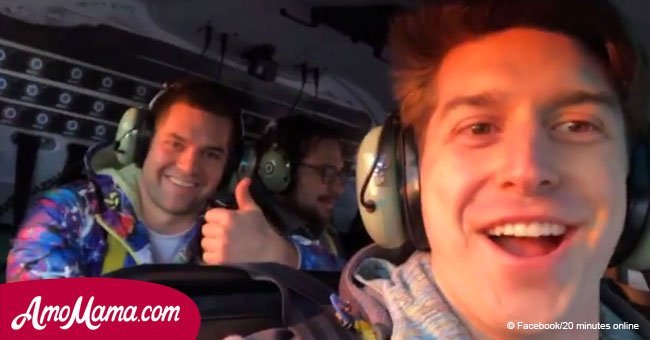 Shocking video captures victims' final moments before helicopter crashing in N.Y.C.'s river

A video posted on Instagram Sunday, February 11, recorded some of their final moments. One of the men is seen flashing a thumbs-up as the helicopter took off amidst the sunset.
According to People, a chilling Instagram video taken by one of the victims of the East River helicopter crash captures the final moments before the chopper plunged into the New York City waterway, killing five of the six people aboard.
Three of the passengers were listed in critical condition after being rushed to nearby hospitals, where they later died. Two were declared dead at the scene and police said the pilot freed himself and was rescued by a passing tugboat.
The nightmare scenario inside the crowded cabin of the Eurocopter AS350 emerged Monday, February 12, as 14 National Transportation Security Board officials arrived in New York to determine the cause of the crash that killed this five people.
According to New York Fire Commissioner Daniel Nigro, the helicopter was inverted in 50 feet of water when the divers reached it. The conditions were challenging, he said, with river currents of four miles an hour and freezing cold water; less than 5°C.
The Eurocopter AS350 went down near the northern end of Roosevelt Island at about 7 pm local time, according to the Federal Aviation Administration, which is investigating the crash.
Richard Vance, the pilot in Sunday's crash, is a licensed helicopter pilot from Danbury, Connecticut, FAA records show. His current commercial pilot license was issued in September 2011, according to FAA records.
Of the six people on that flight, Mr. Vance was the only one who survived. Among the dead, the oldest was just 34.
The victims were identified as Trevor Cadigan, 26, who was aboard with Brian McDaniel, also 26, a friend from their high school days in Dallas.
Carla Vallejos Blanco, 29, of Corrientes, Argentina, who was visiting New York with a friend, a woman that decided to skip the flight that day.
And two other men: Tristan Hill, 29; and Daniel Thompson, 34, whom a law enforcement official described as an employee of the helicopter tour company that operated the craft.
Please fill in your e-mail so we can share with you our top stories!