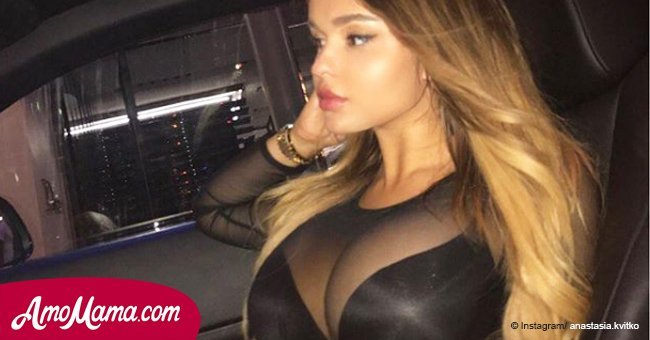 Woman was called 'Russian Kim Kardashian'. She has impressive curves, doesn't she?

This Russian glamour model looked flawless in a beach photo shoot.
As reported by Meaww, Anastasia Kvitko posted photos of herself on social media wearing a skimpy bikini.
Anastasia has 7.8 million followers on Instagram. She loves to post images in a bikini or in a revealing top.
Due to her impressive curves, the 23-year-old model was dubbed the Russian Kim Kardashian.
Anastasia, who is famous for her 38-24-42 figure, posed on the beach in a white bikini that seemed to be a tad bit too small.
Her hourglass figure has been compared to the Keeping Up with the Kardashians star, who is known for her curves and incredible figure as well.
Anastasia has been bashed by critics, claiming that she intentionally modeling herself on Kim Kardashian. But she denied these allegations.
"I like Kim Kardashian but I don't quite like being compared to her – she is far behind me," she said, according to Naija.
Anastasia, who was born on November 25, 1994, insisted that she has not done any plastic surgery to form her voluptuous body.
The hot model visits gym four times a week and just follows a usual vegetarian diet to maintain her figure.
"I train my hip muscles every day. I have a sporty body. My bottom is the most gorgeous in the world. Additionally, I have done no plastic surgeries on my face. I am the best," she said.
Anastasia was picked to star in the popular music video for Ay mi Dios with Pitbull and Yandel that was released in 2016.
Born and raised in western Russia in the Kaliningrad Oblast region, Anastasia moved to the United States in her late teen years. She pursued modeling first in Miami then in Los Angeles.
In a 2016 interview, she revealed that during her time in Miami, she was robbed at gunpoint, causing her to have serious second thoughts about America and her modeling career dreams.
Please fill in your e-mail so we can share with you our top stories!