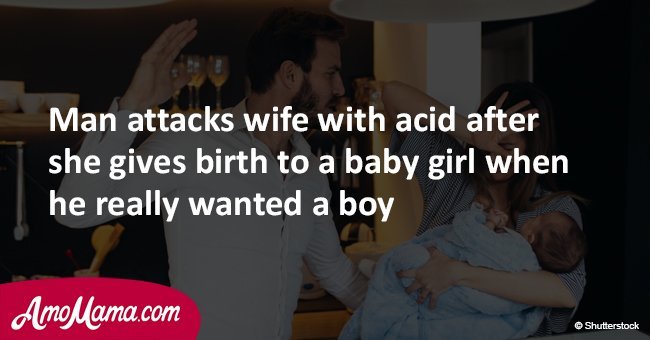 Man attacks wife with acid after she gives birth to a baby girl. He wanted a boy
A woman underwent treatment for multiple burns after her distraught husband attacked her with acid.
A shocking report from Meaww claimed that Siraj of India poured acid on his sleeping wife, Farah Biwi, because she birthed a baby girl. The tragic incident sadly occurred on the International Women's Day.
According to the source, the husband wanted a boy and was angry about his wish not being fulfilled. The 25-year-old woman, Farah, was burned severely in the attack that occurred in the Indian town of Moradabad, near to the country's capital, New Delhi.
Besides not having his wish fulfilled about having a male child, Siraj was also unhappy with Farah because she did not meet his demand for dowry, the source further claimed.
Following the incident, the 32-year-old man is now wanted for causing grievous bodily harm using the acid. Police authorities suggested that the manhunt for the suspect is underway.
After her husband attacked her with acid, Farah was rushed to a nearby district hospital immediately. She received multiple burns to her face, hands, and abdomen and is undergoing treatment.
The victim's sister, Nusrat Jahan, revealed to the source that Farah was married to the suspect, her husband, eight years ago. He was a labor contractor by profession.
In the recent few years, the couple had started disputing and fighting a lot after Siraj started demanding dowry, she revealed.
It was further reported that Farah had given birth to a female child for the second time. As the couple's second daughter was born, the man was frustrated about not having a male child.
Furthermore, he had been torturing the victim in demand of more dowry recently. All of which culminated in the cowardly attack with acid while Farah was asleep on her bed, according to the source.
Please fill in your e-mail so we can share with you our top stories!