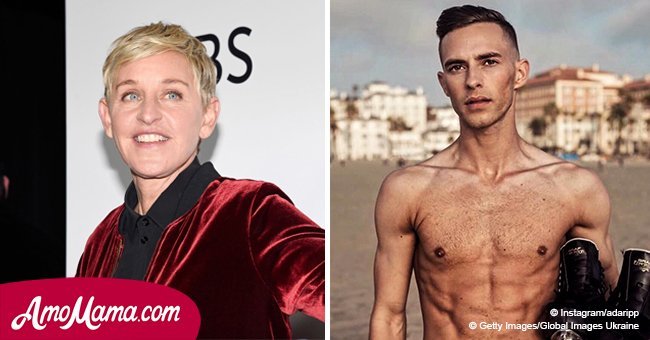 Ellen is reportedly teaming up with a gay Olympic athlete on a new TV project

Fans of Ellen DeGeneres will be delighted to hear that she a planning a new TV project. The talk show host will be teaming up with Adam Rippon.
As reported by Page Six on March 14, 2018, the pair is collaborating on an 'unscripted reality series' for the Olympic figure skater. The details of the show are still being discussed.
Besides the new project, Rippon will also be appearing more frequently on The Ellen Show, and Page Six TV suggested that he might be Ellen's new correspondent.
Rippon is being described as the 'golden boy of the Olympics.' An insider said that Ellen is 'serious about being taken seriously' when it comes to producing.
Ellen is busy with a number of projects at the moment, and wouldn't have teamed up with Rippon if she wasn't serious about their upcoming project.
She was working as the executive producer on a series titled Little Funny, and a TV movie titled Couple Time. Both projects are completed and will be released later this year.
She is also still working as executive producer on the series Splitting Up Together, which is still in post-production.
Ellen announced that she would produce Jekyll, but details pertaining to the project are still under the wraps, and the show is currently in pre-production.
'He gave his first televised interview after the Olympics to Ellen, and now they're going into business together. During the Olympics, she reached out to him and had to meet him.'
An Industry Insider, Page Six, March 14, 2018.
Rippon, 28, won the 2010 Four Continents Championships, as well as the 2016 U.S National Championships. He won a bronze medal at the 2018 Winter Olympics.
He also holds the record for becoming the 'first openly gay U.S male athlete' to compete and win a medal in a Winter Olympics.
Please fill in your e-mail so we can share with you our top stories!