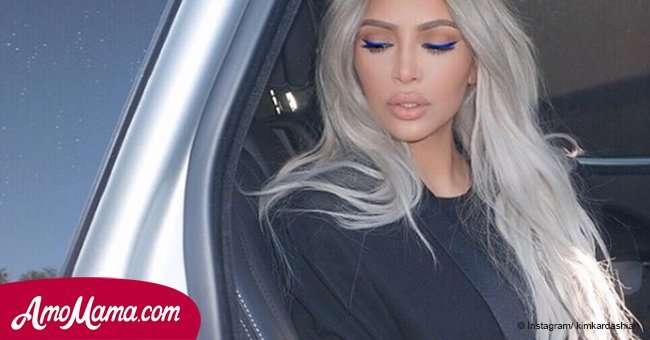 Kim Kardashian's new 'leaving little to imagination' photo makes fans think she needs some tan

Over two million people reacted to this latest racy photograph shared by the reality star.
According to an article published by Inquisitr, Kim Kardashian shared a post on social media featuring herself in a revealing pose and captioned it by stating that she needed a tan on March 13.
The reality star is seen wearing a grey sleeveless short top that highlighted her curvy bust and coupled it with a skimpy and tight grey bikini underwear and a pair of grey socks.
Kardashian is renowned to upload pictures of herself in skimpy outfits with pride but it is rare for the fashion mogul to share a humbling and self-critiquing message about her own appearance.
The mother-of-three is known for her curves and her glistening skin and with this post, she admitted that her complexion needed readjusting.
In the photo, Kardashian was seen with pink hair. Incidentally, Kanye West, Kardashian's husband, had colored his hair pink too, as reported by Inquisitr.
Social media followers of the Keeping Up With The Kardashians star had/ polarizing views about her recent photo update. Some people like Barbara Marques believed that she needed more clothes instead of a tan.
Gayasuddin commented sarcastically that he was glad Kardashian was saving cloth while Renee Fredericks had a harsher comment for Kardashian for 'posing in her panties.'
On the other hand, many fans of Kardashian loved her picture and praised her looks.
Karishma Ramathar believed that Kardashian did not need a tan as she had a perfect skin tone. Siah Borbor simply expressed her love for Kardashian and said that she looked beautiful and was the best.
Some people were neither interested in Kardashians clothing nor her skin tone. They had polarizing views about her new pink hair color instead.
Carla Iacobucci said that she found her pink hair to be 'hot' while Kathy Howard found the three-tone hair color to be a disaster.
Please fill in your e-mail so we can share with you our top stories!