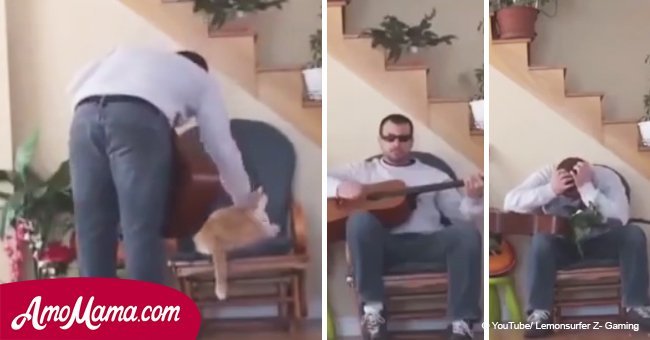 The owner threw his cat from his chair, but you must see how the cat avenged him
The cat was removed from his comfortable perch, but wasn't going to let the man get away with it.
A video that recently circulated on social media showed a man, clearly attempting to be an aspiring musician, trying to remove his cat from the chair where he had curled up.
As reported by Daily Mail, this cat owner was about to learn the hard way that it is never a bright idea to remove a cat from where he has made himself comfortable.
In the video, the man can be seen setting up the camera, before returning to the chair where the cat is perched and strumming a few chords in an attempt to persuade the feline to move.
But the cat is clearly in no mood to move anywhere. Instead of choosing another seat, the man decided to take matters into his own hands. He grabbed the cat by the scruff of his neck, and relocated him to the floor.
Even after the cat was removed from the seat, the man was not content to leave him be. Rather, he decided to deliver a swift kick to the cat's side as he ran off.
Then he sat down, pleased as punch with himself and his disgusting behavior, as though no one watching his video would notice that he had been abusing his cat.
Fortunately, the cat wasn't about to let his owner's treatment of him slide. The man had foolishly positioned himself next to the staircase, on which was perched a number of pot plants right on the edge of the steps.
As the cat ran up them to get away from his awful owner, he skillfully knocked the one right above his owner's head off the step and down onto the man's head.
The man immediately stopped playing his song, and sat on the chair clutching his head in pain, having received his karma for his cruel behavior towards the animal he is supposed to care for.
It just goes to show that sleeping dogs aren't the only ones you should let lie!
Please fill in your e-mail so we can share with you our top stories!