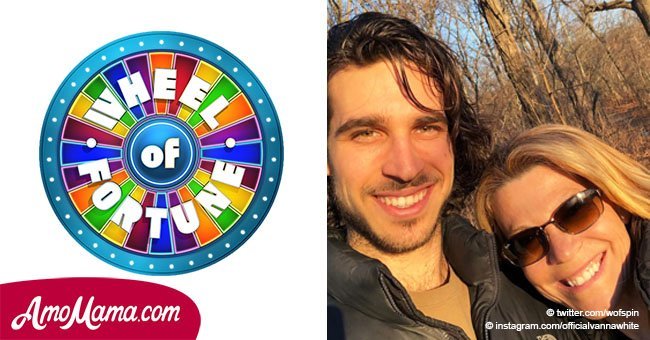 'Wheel of Fortune' star Vanna White's gay son shows off his black boyfriend twice his age

Nikko's Facebook page is filled with pictures of him and a man twice his age taking trips together and devoting to the Hare Krishna principles. His parent's feared someone was after their money.
The 19-year-old son of The Wheel of Fortune star Vanna White, who goes by the name Nikko, is reportedly having a serious romantic relationship with a Hare Krishna monk from Liberia who doubles his age, according to Daily Mail.
Previously, White had feared that her teenage son was being brainwashed into becoming part of the Hare Krishna movement by people who only wanted to benefit from his parents' wealth, but Nikkon has shown her was it all was really about
White had learned that Nikko, who attends the University of Arizona, was spending most of his time with a Krishna devotee named Jaycee Akinsanya, who is 34 years old and goes to the same university.
White, who apparently doesn't have too much trust for the Hare Krishnas, considering that she has stated in the past that she was terrified to 'lose' Nikko to the organization. She was convinced that Akinsanya was after her son for her money.
The Hare Krishnas have previously been involved in scandals surrounding brainwashing, false imprisonment, fraud, and worse, making many people prejudiced against the religious group in general because of the mistakes of a few.
But Nikkon finally faced his parents and told them the true nature of his personal relationship to Akinsanya, revealing that he is exploring a same-sex relationship with the 34-year-old.
Nikkon talked to National Enquirer to clear any misunderstandings regarding his relationship with Akinsanya, after the news started to be spread in gossip news outlets since his mother openly shared her concern.
'Jaycee and I have a special relationship. It's the closest I've ever been with anyone. It's just spiritual and wonderful and there is chemistry - and if there's sex also, so be it. It doesn't matter!' Nikkon told the National Enquirer.
Nikkon also shared that his mother and his father, restaurant mogul George Santo Pietro, had already met Akinsanya in a meeting he described as a success, even though the two had to sleep in separate rooms during their visit in Los Angeles.
The recently outed couple share a home back in Tucson, and they seem to be pretty serious about their life together. The meeting with the parents has left Nikko feeling optimistic about their dealing with the unexpected situation.
When questioned about it, Nikkon prefers to not define himself as having a particular sexual orientation, and he explains that for now he and Akinsanya are happy with the way things are going between them.
'I have had one girlfriend and never had a real boyfriend. We are just happy to be together, loving each other in whatever way possible. Gay? It's possible,' Nikko expressed, sharing that their relationship is 'close but not sexual in the full sense.'
Please fill in your e-mail so we can share with you our top stories!