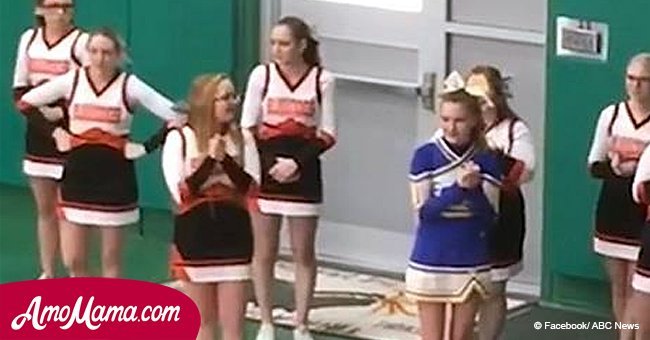 Cheerleaders surround girl from rival team. Luckily their actions got recorded so we can see it
The unexpected turn of events didn't stop this cheerleader from representing her school's team.
As reported by Faith Tap, Tori Adams, a cheerleader of Northwestern High School, was the only cheerleader present to support the Northwestern Eagles at the CLAA Conference Tournament in Missouri
The school's basketball team had a game, but Tori was the only one who showed up because the other cheerleaders came down with an illness.
Though it's awkward, Tori felt that someone should be there to represent her school
"My coach gave me the option to cheer or not cheer, and I felt like I had to be there for the team," she told FOX4 News..
Upon learning Tori's situation, the cheerleaders from the rival school, Hardin-Central, approached her with a unique suggestion. They invited her to cheer with them.
Brenda Milligan, one of the mothers of the cheerleaders from Hardin-Central, filmed the whole thing.
In the video, Tori, who is dressed in a blue outfit, is seen being surrounded by the cheerleaders of the rival team.
According to Faith Tap, instead of converging on the lone cheerleader like hungry wolves, the girls were about to invite her to join their cheer squad.
Milligan said that Tori looked embarrassed and scared to cheer all by her lonesome in front of so many people.
"My daughter and her squad took the nerve and went out to cheer with her," she added.
Tori eventually learned their rival squad's cheers and moves in a short amount of time. Stealing the show, the young ladies all cheered together for both high schools.
The crowd was amazed that two rival squads banded together to give their support for both teams. They put aside their differences long enough to inspire kindness in one another, Faith Tap reported.
Please fill in your e-mail so we can share with you our top stories!