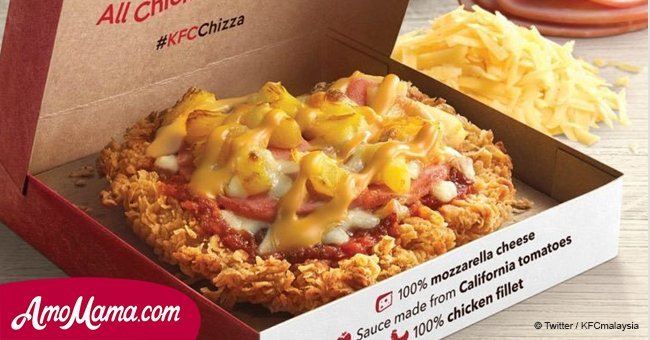 KFC is now selling pizza made with a fried chicken 'crust'. Would you like to try?
There are times when people believe that their pizzas lack 'something' that would definitely make them more delicious.
It doesn't matter if they are in the finest restaurant eating their best pizza, there is always a way to make it better. KFC knows it and they have created a 'Frankenstein' meal for those craving for more fat, grease, and calories.
As reported by Simple Most, they took what they do best (chicken), turned it into a pizza, and named it Chizza. They removed all the bread that traditional pizzas have and replaced it with chicken, which gives the Chizza an incredible crust.
It is topped with tomato sauce, mozzarella cheese, ham, pineapple, and KFC's 'special cheese sauce.' One of the most shocking facts about it is that it is shaped like a heart.
What's interesting is that so much grease and fat is not good for people's hearts. While innovative, it is not the first time KFC has taken chicken to places it has never been before.
A couple of years ago, they introduced the Double Down, which is a sandwich with fried chicken instead of bread filled with bacon, Monterrey Jack cheese, and Colonel's sauce.
They took it to the next level by creating the Double Down Dog, which is a hot dog made of fried chicken in lieu of the hot dog bun. Their most risky move was the fried chicken scented candle, though.
The bad news is that the Chizzas are being distributed only in Singapore and the Philippines so far. For those who don't want to travel that far, KFC shared a video showing how they prepare it and the truth is that it's not complicated at all.
People only need a marinade chicken breast fillet with the aforementioned shape, cover it with flour, fry it until golden brown, and top it with Pizza sauce, sliced chicken ham, pineapple chunks, mozzarella cheese, and cheese sauce.
After that, all that is left to do is bake it and enjoy it.
Please fill in your e-mail so we can share with you our top stories!