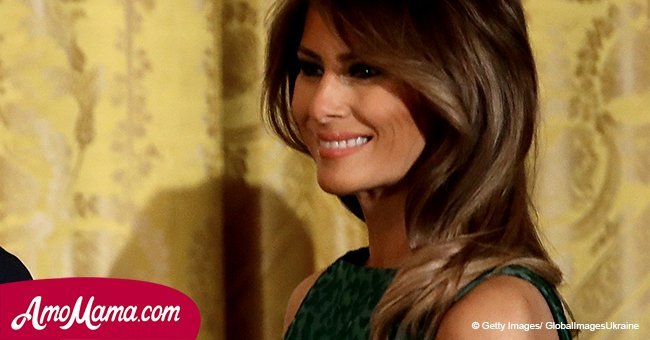 Melania Trump dazzles and looks sensational in $1,595 green leopard cocktail dress

The dress started selling out hours after the First Lady was spotted wearing it.
According to an article published by Inquisitr, the gown worn by First Lady Melania Trump became an instant hit, booming the sales of the outfit.
Melania as seen wearing the gown on the occasion of St. Patrick's Day, and she and President Trump also hosted The Irish Prime Minister Leo Varadkar at the White House.
While several pictures of the day were released, the first lady's attire caught the attention of fashion enthusiasts. The dress featured a boatneck and an overall leopard print.
The deep green sleeveless outfit was themed around the occasion of St- Patrick's Day. The dress is said to be designed by Brandon Maxwell and costs an estimated $1,595.
The cocktail dress stood out in the images taken at the White House, against a backdrop of gold and white. The pictures were taken when President Trump during the gifting of the Shamrock Bowl.
The dress worn by Melania instantly started trending online, and it was observed that similar dresses were booming in sales shortly after her appearance was publicized.
For instance, the Neiman Marcus website drew a lot of traffic, where the same dress as Melania's was available with a bateau neckline and midi length.
Since the sales began, the website displayed that they were low on stock on the popular emerald green sheath dress in certain sizes.
The dress is listed as 'Made in U.S.A' with raw materials from Italy. The fabric of the satin-like gown is a mixture of silk, polyester, and nylon.
Designer Maxwell has previously stated his admiration for former first lady Michelle Obama as well as the iconic Lady Gaga.
Melania accompanied President Trump in welcoming the Irish Prime Minister and participating in the tradition of gifting the green shamrock.
As a mark of tradition, men present in the room while the gift was exchanged were spotted wearing small bunches of shamrocks in the pockets of their shirts.
Please fill in your e-mail so we can share with you our top stories!