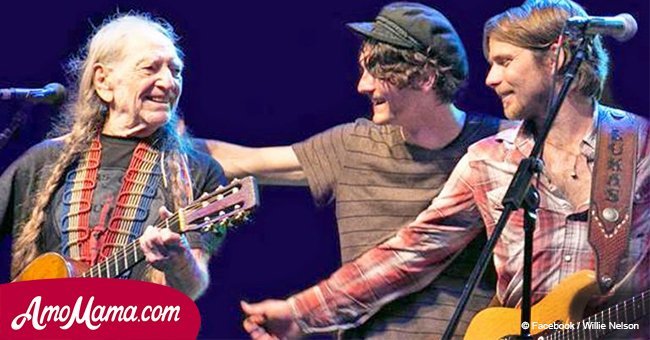 Willie Nelson's handsome sons perform 'Blue Eyes Crying In The Rain'. And it's stunning
Long before his sons were born, he was already a successful musician. But he seems to have passed his talents along.
Willie Nelson started playing music and even touring with a band when he was still just a child. But when his sons, Lukas and Micah were born, he never pushed his own career onto them.
As reported by Country Music Nation, Lukas was already 10 years old the first time he picked up a guitar when his father taught him to play.
Lukas was born in 1988, and Micah in 1990. By that time, Willie was already a great success in country music, and much loved by his fans.
But being the dad he was, he never pushed his sons to follow in his footsteps. It was only when Lukas asked his father what he wanted for his birthday, and Willie stated that he would like for his son to try and play the guitar.
Willie set about trying to teach his son the basics of guitar, and the youngster was hooked. From that day onwards, he hardly ever put his guitar down!
"The first song you taught me, Dad, was 'Blue Eyes Crying In The Rain.' The first chord I ever learned was E," Lukas said of his early experience with music.
Now, years later, Willie and his sons teamed up for a duet of that very same tune.
Lukas got the trio started on the song, playing the opening chords and singing the opening lines with an eerie similarity in his voice to that of his father.
Willie and Micah joined in with the harmony for the chorus.
The doting father is obviously very proud of his sons, as he has toured with them and even released an album called Willie and The Boys: Willie's Stash Vol. 2 in collaboration with Lukas and Micah.
The album sees them covering hits from artists like Hank Williams, Hank Locklin, Hank Snow, as well as some of his own hits.
Please fill in your e-mail so we can share with you our top stories!