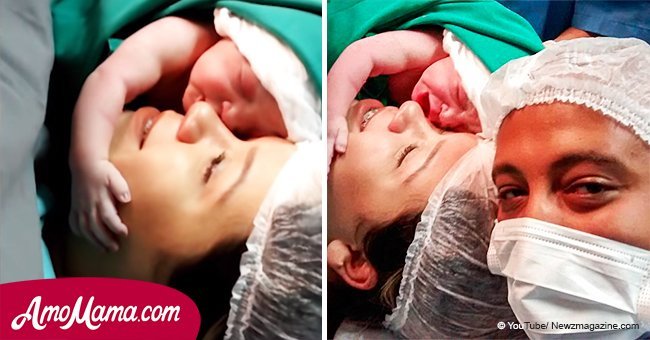 Dad films daughter's birth. Suddenly, newborn daughter hugged mom for the first time
A woman named Brenda Coelho de Souza gave birth to her baby daughter last year. During the birth, the father of the child chose to film the spectacular moment.
According to So Share This, the baby girl did something very uncommon when she was laid next to her mother to bond. Agata Ribeiro Coelho was born on April 5, 2017.
Last year in a Santa Monica hospital in Brazil, Brenda Coelho de Souza, 24 at the time, delivered her baby via C-section. Baby Agata Ribeiro Coelho's birth took the internet by storm for her unusual behavior according to Daily Mail.
Soon after Coelho was born, she was placed right next to her mother's face so the two could begin to bond. As the pair lay next to each other, eyes closed, the baby reached her tiny arm around her mother's face.
"It was an incredible moment when my daughter hugged me for the first time."
Brenda Coelho de Souza, So Share This, August 7, 2017
The baby girl held on tight in an incredible display of love. De Souza relished in that special moment as her baby even appeared to try to give her mother a kiss.
Although she was more likely looking for some milk. The precious moment has since gone viral and people just can't get enough of the first time embrace between the mother and daughter.
"The medical team were great and were all really surprised that she acted this way, they couldn't believe how affectionate she was with me," De Souza shared at the time. Coelho is now almost a year old and she and her mother's bond is stronger than ever.
De Souza admitted that she loved being a mother.
Please fill in your e-mail so we can share with you our top stories!