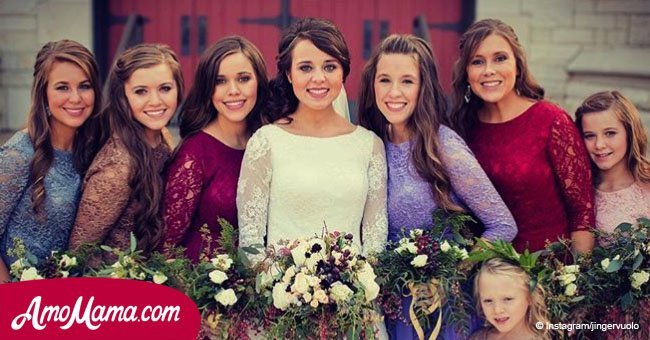 Jinger Duggar flaunts her grown baby bump in a new picture while giving a baby size update

Welcoming a baby is one of the most exciting things people might experience in life. It's not a surprise that they share as many posts about it as possible.
Jinger Duggar Vuolo and her husband, Jeremy Vuolo, are slightly different as they have been updating their fans and followers regarding her pregnancy approximately every two weeks or so.
According to Inquisitr, ever since she announced her pregnancy shortly after Christmas, her kitchen has been the perfect studio for her pregnancy photos. Now that she is 22 weeks along already, her baby bump is getting bigger and bigger.
In the most recent image she shared (March 18, 2018), the chalkboard behind her clearly stated that the child is the size of a papaya.
Jinger, known as the 'rebel Duggar,' has been making headlines since she got married to Jeremy as she started wearing pants, a piece of clothing that her family has banned because it is 'immodest.'
Pants are not the only forbidden piece of clothing she has worn, though. She has surprised several fans of Counting On by putting on skirts way shorter than the ones her parents, Jim Bob and Michelle Duggar, would have allowed in their house
Her followers consider that, since she left her parents' home already, she is free to wear whatever she wants as long as Jeremy approves it because she must submit to his will and not to her father's.
Apart from that, people also consider she is a rebel because she waited 14 months to announce she was expecting a baby when the rest of her married sisters got pregnant only two or three months after walking down the aisle.
That might have two explanations: either they had trouble conceiving or they used birth control (which her family is staunchly against) to wait on purpose.
The Vuolos have not shared the sex of their upcoming baby but it is believed that they are expecting a baby boy given the fact that eight out of ten Duggar grandchildren are boys. The only two daughters of the family were welcomed by Josh Duggar and his wife.
Joe Duggar, who is also expecting a baby with his wife, Kendra, revealed he will welcome a baby boy, as well. Despite the fact they have not admitted they would like a baby girl or boy, fans would like them to have a girl so they even things out in the family a bit.
Please fill in your e-mail so we can share with you our top stories!