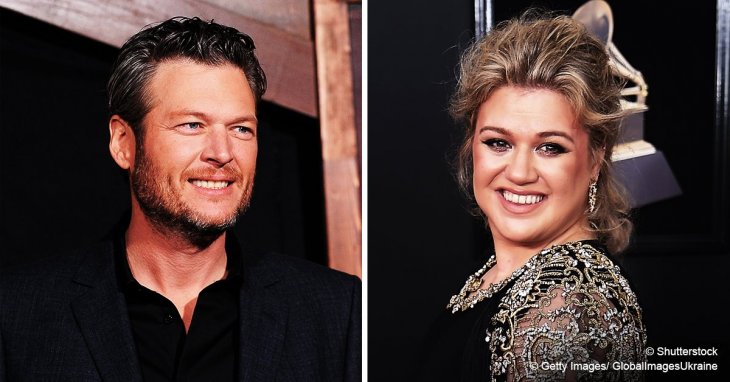 Blake Shelton is reportedly feuding with Kelly Clarkson after her comments about his love life
Blake Shelton and girlfriend Gwen Stefani and Kelly Clarkson still can't believe that they are together. Ina playful jab, Clarkson wondered loudly why Stefani is with Shelton, going back to the time when she first met the two as a couple on a double date at Stefani's home.
Speaking to Entertainment Tonight, Inquisitr reports that the country singer made a few jokes that could have rubbed her fellow The Voice coach the wrong way;
"The first time I saw Gwen's house, it's insane! I was kind of like Pretty Woman walking in the store, except I didn't look like Julia Roberts, and I was walking in the store and they were like, 'You don't belong here.' "I literally talked to my husband about her house for hours. I was like, 'I felt like I was a good interior decorator, and then I walked into Gwen's house.' And then I'm like, 'Why is she with him (Blake)?!'"
Blake took it all in his stride, even quipping that he wonders the same when it comes to his girlfriend of two years. The two have been going at each other in a playful way for the better part of this season of The Voice, but it didn't start all rosy. In the beginning, Blake remarked that Clarkson was not easy-going on his fellow coaches Adam Levine and Alicia Keys. "It doesn't make it easier to be Kelly's friend going into this thing in a competitive nature. She'll definitely go for the throat."
Admitting to her hard stance, Clarkson told Parade that she had been left with no choice but to "freaking fight" for her place, especially being a newbie coach in a show where Blake has been coach for 14 seasons.
Despite the duo's onscreen banter, they get along pretty well. They have known each other for over a decade, apparently, owing to Clarkson's husband's workings with Blake.
Talk to us in comments.
Please fill in your e-mail so we can share with you our top stories!