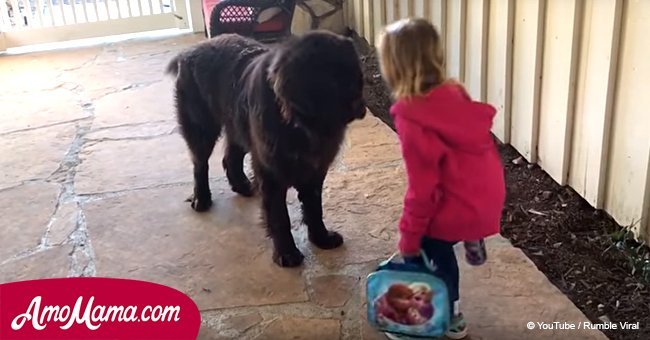 Little girl will not leave for school until she gets kisses from her fluffy dog. Awesome footage

Dogs have proven, time and again, that they are man's best friend and this story is no exception.
As reported in an article published by Animal Channel, a young girl named Sierra made sure to show her affection to her Newfoundland dog, Samson, before she left for school.
Her mother captured Sierra's sweet moment with her pet and the bond of love they shared on camera. The mother uploaded the video online.
People were so touched by the heartwarming video that it went viral on the internet in no time. The video caption read, 'Three kisses for Samson before Sierra is off to school. Such an incredible bond between these two!'
The video showed the love between the girl and the pet who were certain that they would each other after Sierra left for her school.
In the video, Sierra held her lunch bag and a water bottle as she kept talking to her mother which may have been about her school. She was seen kicking the ground to put some of the dirt back towards the garden area.
Samson was following Sierra as this while and seemed like he did not want her to leave. That is when her mother asked her to say goodbye to Samson before she left.
Sierra realized that Samson was right behind her and turned towards him. She leaned in and said goodbye to Samson. Sierra quickly planted three kisses on Samson's nose.
Samson too moved forward to accept the kisses from his little princess. This amused Sierra and she chuckled to her mother about his reaction.
Sierra's mother told her that he's going to miss her a lot. The video had 360,000 views in less than three days.
Newfoundland dogs may look menacing due to their size. But the nature of these dogs is completely opposite. They are very loyal and responsive to affection, as seen in the video.
Please fill in your e-mail so we can share with you our top stories!