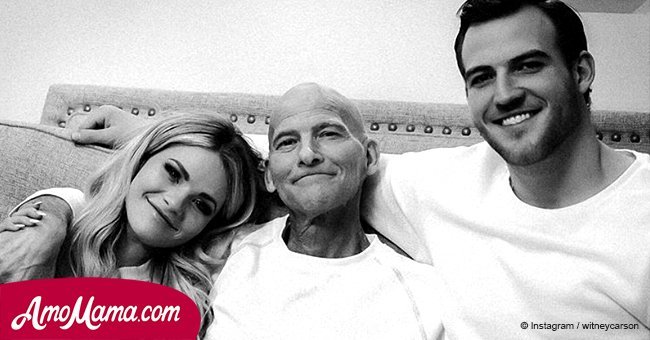 'DWTS' celebrity Witney Carson shares a sad family photo from her late father-in-law's funeral

The passing of the loved one brought the whole family together.
An article published by Entertainment Daily reported on the recent social media post shared by Dancing With The Stars participant Witney Carson in which she posted a family picture at the funeral of her father-in-law.
Kevin McAllister, Carson's father-in-law passed away in peace on March 8. A few days after his death, Carson took to social media to share a picture from the funeral service.
The photo featured several family members across two generations posing behind a decorative arrangement of flowers on the casket. She captioned the picture with the words 'We love you, Kevin.'
Witney also doodled two hearts in glowing white under the photo to depict her love for McAllister.
The background and the dress code of the family members symbolized a somber mood. However, the family members, including six toddlers, smiled as they posed for the picture as if to show their fondness for him.
The emotional post came after the one where Carson made the heartbreaking announcement of McAllister's death. In the caption, she revealed that he had struggled with pancreatic cancer for over two years.
The 24-year-old dancer had shared a black-and-white picture of herself and her husband Carson McAllister sitting on either side of the frail but pleasant-looking father figure.
In the post breaking the sad news, Carson shared that it will be painful to deal with the loss of her beloved father-in-law. She added that though he was gone, she believed that he would continue to watch over them as an angel.
Speaking of the time they spent together, Carson wrote that she and her husband cherished the time they got to share with McAllister and that he was surely in a better place after his journey on the earth.
The pro dancer's husband is silently mourning the loss of his parent, and has not spoken about it publicly or on social media.
Meanwhile, as fans worried whether this tragic event will cause Carson to quit the reality contest, she confirmed on social media that she will still continue doing the show.
Please fill in your e-mail so we can share with you our top stories!