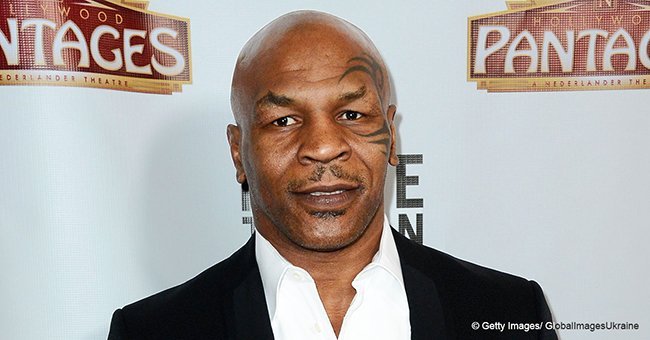 Mike Tyson's youngest girl is a 9-year-old beauty with beautiful long hair & looks nothing like dad
- AmoMama learned from Instagram that Mike Tyson's daughter shared a picture of herself when she celebrated her 9-year-old birthday.
- Milan Tyson shared a picture of herself on her birthday and she looked so adorable with her smile and her beautiful face.
- Social media seemed to state that Mike Tyson's youngest child Milan looked nothing like her father, rather she looked sweet like an angel
Being the product of his last marriage, Mike Tyson's daughter looked stunning on her 9th birthday and everyone cannot stop talking about it.
She smiled in the picture as she held up her fingers signifying the number 9, as she looked very proud of herself.
She had on a denim jacket with a white cap that had 'girls' drawn on it.
Her smile was everything, as she posed for her picture to be taken. She looked so much like a damsel and nothing like her boxer of a father.
Her caption read:
'Happy holidays, today was my 9th birthday, next year double digits'
She had over a thousand likes on her pictures with family and friends who took to the comment section of the post to tell the 9-year-old angel how beautiful she looked.
She received so much love from a lot of people who urged her to smile more often.
Milan Tyson was born to Mike Tyson and his third wife and longtime girlfriend Lakiha Spicer.
Milan is a proud tennis player and she recently played a tennis game at the Indian Wells Masters tournament with a Serbian tennis pro known as Novak Djokovic
Aside from not following in her father's footsteps, this damsel is good at what she does and she receives a lot of support from her family.
During the game which was described as a joke, Milan scored multiple goals on Novak.
It was later revealed that Novak Djokovic was the one who asked Milan to hit with him.
Her dad, Mike Tyson who was more than proud took to his twitter page and appreciated Novak for making his daughter hit with him.
Mike Tyson could definitely not have been more proud of his 9-year-old baby Milan Tyson.
Do you really think that Milan could one day become the goddess of tennis?
Tell us what you think in the comment section below
Source: Instagram
Please fill in your e-mail so we can share with you our top stories!