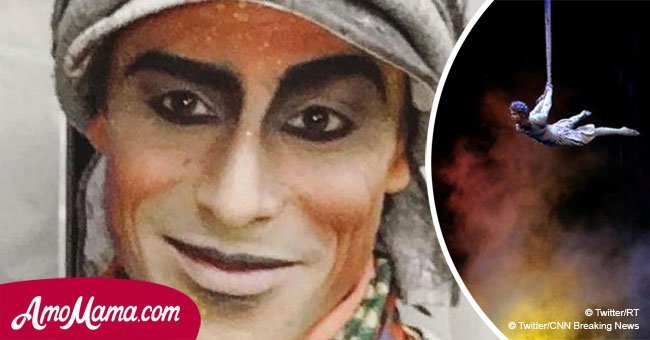 World famous 'Cirque du Soleil' show ends in a terrible tragedy in Florida

Being an acrobat for a circus is very demanding and dangerous as they have to go from city to city performing their routines flawlessly.
One mistake and their life might change forever. Cirque Du Soleil, the Canadian entertainment company known in the entire world, knows it firsthand as one of their aerialist, Yann Arnaud, fell to the stage and died.
According to Entertainment Daily, the tragic accident took place in Tampa, Florida, on March 17, 2018, during a live show. The audience saw in horror that Arnaud, 38, lost his grip on an aerial strap and plummeted to the stage.
Soon after that, emergency procedures were activated and he was transported to the nearest hospital in the area. A couple of minutes later, he passed away from his injuries.
The news was shared via Twitter by the official account of Cirque du Soleil only one day after the incident.
They added that Yann had been working in the circus for more than 15 years and that he was deeply loved by everybody.
Apart from that, they confessed they would put all their efforts in helping and supporting Yann's family and the entire VOLTA team, the group he specifically was part of, during such a traumatic situation.
The tweet also set clear that the police is involved in an investigation as they pointed out they were gathering information and offering their collaboration to the authorities that are studying the circumstances of the accident.
Finally, they admitted that the last 2 shows of VOLTA that were supposed to take place in Tampa on March 18 had been canceled.
Julien Martinez, a member of the audience, revealed that Yann was struggling during his performance.
'I saw the performer visibly straining to hold onto the rope. I saw the two acrobats exchanging glances beforehand and I don't know if one was trying to see if the other was okay.'
Julien Martinez, Entertainment Daily, March 19 2018.
He added that when he finally hit the ground, everybody in the audience started shouting and screaming. It is not the first time something similar happens during a Cirque du Soleil's show.
In June 2013, aerialist Sara Guillot-Guyard, 31, passed away after falling during a performance at a Las Vegas casino.
Please fill in your e-mail so we can share with you our top stories!