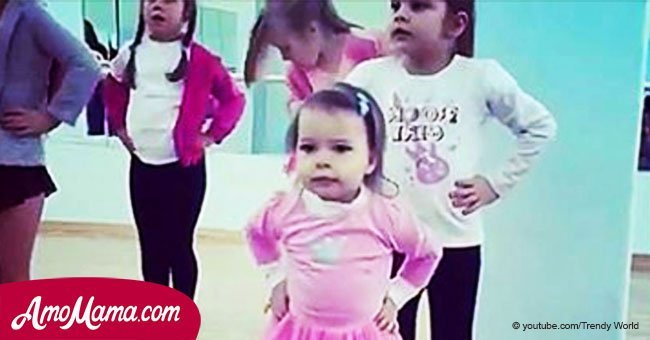 Girls were ready to start dance class. But when the music began, a little one had her own rhythm
Although most people like to follow the rules and fit in, there are some individuals who prefer to set the pace, no matter what other people say about them.
This is the case with this little girl, who attends ballet classes for her age group, who is very happy following her instincts when dancing.
According to Shareably, the little girl couldn't resist the beat when the teacher played an untraditional Hip-Hop track and let herself go.
While everyone in the class was trying to be on point with the movements, as the teacher wanted them to practice technical movements, she was just having fun.
Now everyone on the Internet is completely heart warmed by the video, which became viral just days after its first post in social media.
Source: Youtube/Trendy World
When the lesson first began, the little and lovely child ballerinas were instructed to start rolling and moving their shoulders.
Although the little girl coordination isn't quite perfect yet, as she's obviously the youngest of them all, the toddler, who was wearing a pink tutu, seemed to be following along.
Soon after the shoulder stretches started, the beat finally started and the song became an upbeat track which this child loved instantly.
The same outlet explained that it must be her favorite type of music, considering the fact that she seemed to know exactly what to do at each point.
The dancing little girl quickly realized that she was in her own world, not in sync with her classmates, and desperately tried to pick up the routine.
Source: Youtube/Trendy World
After bouncing around, stomping her little feet, and getting down to the music, she again realized she was getting a little out of control and pulled it back together for a moment.
Although she tried to practice the technical movements she was ordered to perform, this is her genre of choice. The video was shared on Facebook and was viewed over 54 million times.
Please fill in your e-mail so we can share with you our top stories!