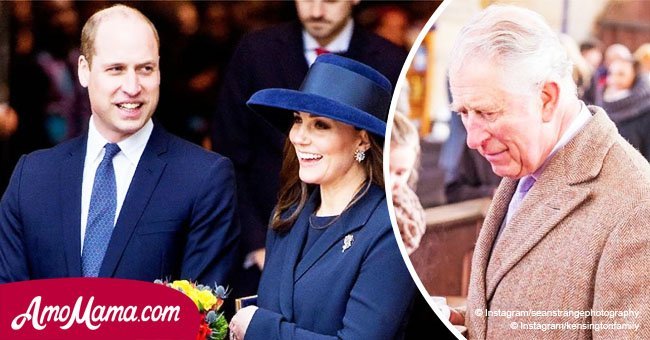 New book reveals unexpected fears that Prince Charles has of Prince William and Duchess Kate

Every family has feuds, but when a family is so close to so much wealth, power and popularity, things can go really serious and unpleasant. A new book exposes Prince Charles.
A new unauthorized biography of 69-year-old Prince Charles written by Tom Bower reveals the alleged tensions that have at times arisen around him since his son Prince William, 35, got married to Kate Middleton in April 2011.
According to Closer Weekly, the book, called Rebel Prince: The Power, Passion and Defiance of Prince Charles, Charles has felt threatened by the great popularity achieved by the Duke and Duchess of Cambridge, who could steal the throne from him.
Reportedly, Charles is so worried about losing influence in the royal family that he has been uncomfortable with the presence of Middleton's mother in the family sphere closest to Harry, who many British see as a good candidate for King.
William and Middleton spend a considerable time with the Duchess' mother, Carole, and Charles fears she might take over of important family issues, according to excerpts of the controversial book.
'The distance between Highgrove and Norfolk isolated the Prince from his grandchildren, [Prince George and Princess Charlotte], and allowed Kate's mother, Carole Middleton, to take charge,' Bower writes.
During the first years of marriage of William and Middleton, the couple retired to Norfolk to protect their privacy as their relationship matured. As the public started to focus on the charismatic couple, their distance from Charles made him uncomfortable.
The book states that 'Charles began to fear that he was being usurped by the Middletons, and several of the Queen's courtiers picked up on this,' and he would go so far as ignoring Carole on social occasions.
The tensions between Charles and the Middleton's grew so big that William asked for the help of his grandmother, Queen Elizabeth. The Queen decided to act up to protect the image of Carole Middleton and took her on a televised ride around Barmoral estate.
The book goes on to say that, contrary to Charles insecurities, his second wife, Camilla Parker Bowles remains confident that it's going to be the two of them who take over the throne after Elizabeth finished her reign.
Please fill in your e-mail so we can share with you our top stories!