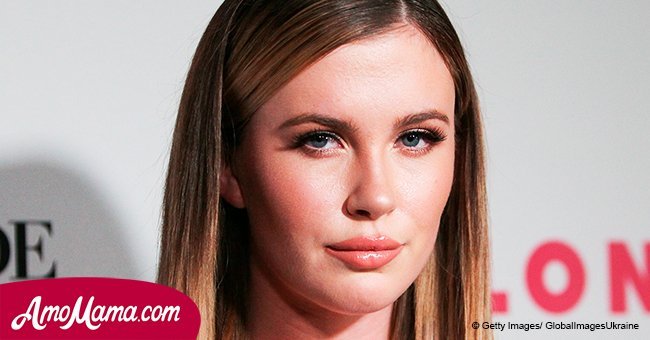 Alec Baldwin's daughter looks worse for wear as she shows off her bra in an unbuttoned dress
Ireland Baldwin seemed to party hard on St Patrick's Day. Who won't? After all, her name is Ireland. But it appeared that she looked glum as she spotted in Los Angeles on Saturday night.
Alec Baldwin's oldest daughter looked like she was on the verge of tears as she stood outside Rock & Reilly's Pub with an unidentified man. Who could this man be and why did she look a little worse for tear? AmoMama gleaned some info from Daily Mail.
The young model wore a black flowy and floral dress that seemed to be unbuttoned way too low, flashing her bra and a lot of cleavage. She matched it with a pair of white sneakers and a huge Urban Outfitters bag. She pulled her hair away from her face and tied it into a knot.
The 22-year-old did not have any coat at all and one can only wonder why she didn't have any as it was a chilly night. She was spotted wrapping her arms around herself though, to keep warm as she waited on the sidewalk.
Ireland didn't seem to be happy with the mystery man and even looked like they were arguing. The beauty looked at him sadly and the man did not even try to help her warm up or offer his jacket to her.
The daughter of Kim Basinger bared her all at the start of this month for a new animal rights ad, just like what her mom did 24 years ago. She was thrilled to share her Rather Go Naked Than Wear Fur campaign photo. On the caption of her Instagram photo, she wrote:
"I've dreamt of shooting this for as long as I can remember. If you don't truly know what goes into making fur, please educate yourself. Fur is cruel no matter what. If you wouldn't skin and wear your own dog, then you shouldn't wear fur at all because all animals are created equal. Save our animals, save our planet and join me and #Peta in making more conscious choices."
Sound off in the comments and tell us what you think of this news about Ireland.
Please fill in your e-mail so we can share with you our top stories!