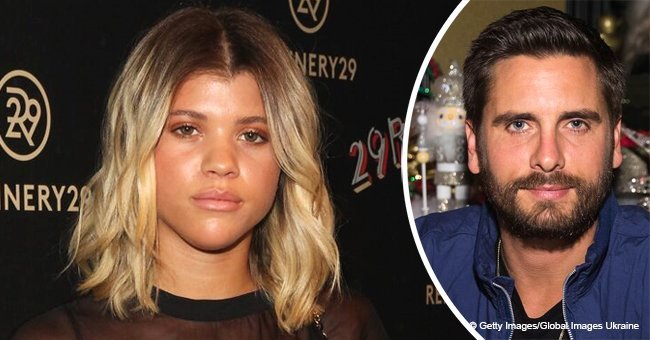 Sofia Richie reportedly teases Kourtney Kardashian by wearing one of her favorite outfits
- Sofia Richie and Scott Disick have been making headlines since they went public with their relationship because of the age gap between them.
- Disick is known for being a party boy that even when he was in a relationship with the mother of his kids, was also seeing other women on the side, and now it seems like Sofia is making him change his ways.
Celebritist learned from Hollywood Life that after they faced rumors of a break up last week, Sofia and Scott were spotted together once again, and it seems like there are no problems in paradise for the couple at all.
Scott, who is the father of Kourtney Kardashians' three kids, Mason, Penelope and Reign, has been dating Lionel Richie's daughter since last May, and even though many people, including Lionel, have expressed their disapproval of the relationship, the couple is still going strong.
There have been lots of claims about Sofia wanting to change her image to resemble Kourtney in order to appeal more to her beau, since the model recently dyed her hair back to brown and is now wearing extensions, among other things.
However, it's important to note that the 19-years-old had brown hair before when she wasn't even involved with Disick, so perhaps she just wanted to make a change in appearance and it has nothing to do with Kourtney.
Some sites are now reporting that the young girl is 'trolling' the oldest Kardashian by wearing one of her favorite outfits, which happens to be a turtleneck, but then again, just like Kourtney, there are many other stars in Hollywood who love a turtleneck.
So we have to ask, is Sofia trying to troll every single one of them?
The media and some fans have been trying to pity Sofia against Kourtney for months, but it has been reported that even though the 38-years-old reality star was irked at first by the age difference between her baby's daddy and his new love interest, she's now more accepting of the girl because she has been a good influence in Scott's life.
Perhaps the best proof of that is the fact that Sofia was recently caught out and about with Scott and his oldest kids, Mason and Penelope, as they enjoyed a day of shopping.
If Kourtney was indeed 'freaked out' about Sofia, or she felt like the girl was trolling her, we're sure she wouldn't let her kids be around the girl, who could easily be confused as their older sister, by the way.
We're glad that Sofia seems to be having a good effect on Scott and his old ladies man' ways; she seems to be a very special girl for the 34-years-old to introduce her to his kids.
What do you think about people trying to create drama between Kourtney and Sofia?
Source: Hollywood Life, Daily Mail
Please fill in your e-mail so we can share with you our top stories!