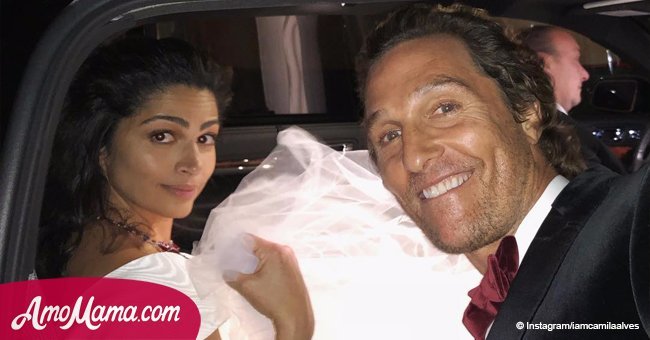 Matthew McConaughey's wife shows off curvy breasts in a snow white gown with a deep neckline
The famous Hollywood star's wife flaunted her own style and rocked the red carpet during a Hollywood event.
Matthew McConaughey's wife, Camila Alves, stole the show when she appeared on the red carpet during the Oscars with her husband who bagged the prestigious Academy Award for Best Actor in 2013 for his movie Dallas Buyers Club.
According to Daily Mail, the star wasn't nominated this time around, but he made his presence felt at the prestigious awards ceremony. However, it was his wife, Alves, who managed to steal the highlight by flaunting a bold white gown.
The source revealed that Alves' massive white gown had a striking resemblance to a wedding dress. And she showed off her style and bold attitude as she posed for the photographers on the red carpet.
Alves, who married the Oscar-winning actor back in 2012, matched her fashion by donning a light makeup and a very opulent and glamorous necklace.
Although Alves stole the show, McConaughey was not much far behind his wife in terms of fashion and style, reported the Daily Mail. He chose a much more classic and dashing avatar by donning a black suit with a white shirt.
He matched it with a burgundy bow-tie along with a pair of sunglasses, which he was spotted sporting a couple of times.
During the event, the couple was seen catching up with other several celebrities including actor Timothee Chalamet, who was nominated for Best Lead Actor for his part in Call Me By Your Name.
The 22-year-old, however, ended up losing the Academy Award to iconic Hollywood actor Gary Oldman, who is famous for his role of Sirius Black in Harry Potter films.
Chalamet might not have bagged an Oscar, but he definitely bagged a lot of praise when it came to his fashion statement on the red carpet. The star wore an off-white tuxedo with a white shirt and a bow-tie and matched it with perfect black dress shoes.
Please fill in your e-mail so we can share with you our top stories!