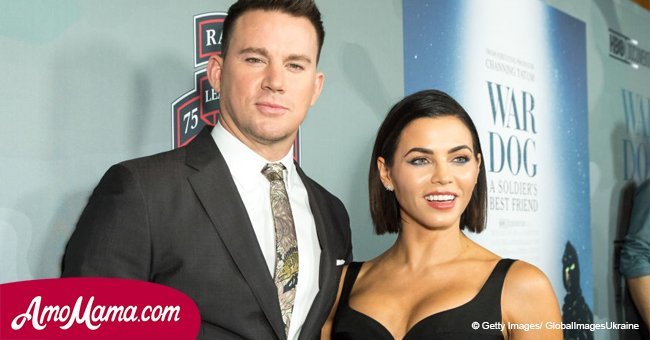 Channing Tatum's wife Jenna, 37, flashes her incredible body shape in eye-catching black bodysuit

Jenna Dewan Tatum is one fit dancer, and her body can definitely prove it.
Wearing a black skintight onesie, Jenna took to Instagram to share a boomerang photo of herself by the stairs wearing a tight bodysuit with sheer accents.
In the snapshot, she could be seen posing with one leg up, posing confidently as she looked up.
This post was paying tribute to International Women's Day, a day in which many celebrities posted their own tributes to strong and confident women around the world.
"Happy International Women's Day to all of the strong women out there who are confident in their own skin @DanskinApparel#InternationalWomensDay #Danskin"
Dewan-Tatum and his spouse met while filming the dance film 'Step Up' in 2006, and got married three years later in Malibu in 2009. A long four years later, the two welcomed their daughter Everly into their lives.
According to the couple, the baby could not have come at the worst time.
"We actually got pregnant at the worst time. I found out right after I filmed the pilot for 'The Witches of East End', and then we spend six months in London while Chan[ning] was doing 'Jupiter Ascending'. It was not a planned baby. It was crazy, but we figured it out. You've just got to trust and follow the flow of life."
During her interview for Cosmopolitan, Jenna opened up about her sex life with her husband, saying:
"That's one of our biggest connections. It's just always been there. We're not those people who can just say, screw it, let's be sexual. We have to be connected in the right way. But I've always been a very sexual person. We definitely have a very happy and healthy [sex life]."
With both she and her husband are both dancers, Jenna says this is actually a huge factor in their sexual life.
"Something about being a dancer connects you to your physical body. It's primal, earthy, sexual energy by nature. You feel your body in a certain way. Channing is very much the same way. He's very in tune with that. It just worked."
Please fill in your e-mail so we can share with you our top stories!