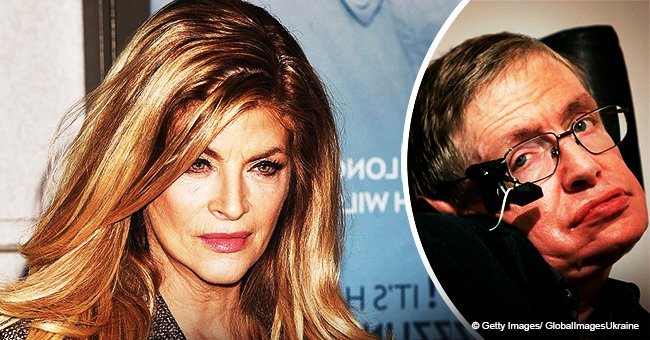 Kirstie Alley is severely criticized after sharing a 'disrespectful' tribute to Stephen Hawking
Many people have written heartfelt messages to mourn the late scientist Stephen Hawking, who passed away at 76 on Wednesday, but one particular one rubbed most admirers of his work the wrong way. The Cheers actress, Kirstie Alley, was branded 'heartless' and 'cruel' after she tweeted what she must have thought to be sincere condolences as per a Daily Mail report.
"You had a good go at it… thanks for your input."
The Twitter nation did not take these words kindly, and most accused the sitcom actress of being disrespectful to the late scientist. These are just a few of the tweets; 'She just gave this man's life a participation trophy', while another suggested the tribute was 'super disrespectful... just WOW! 'It's as though Kirstie Alley has inserted herself into this to be final confirmation. It's so heartless in the least emotional way. I can't stop thinking about her writing it.'
Professor Hawking died peacefully at his home in Cambridge in the early hours of Wednesday morning and what followed was a barrage of tribute from leaders, science lovers, and artists from all over the world.
Hawking, who was diagnosed with Amyotrophic Lateral Sclerosis (ALS) - also known as Lou Gehrig's disease at age 21– was told by his doctors that he only had two years to live. The condition - which causes the death of neurons controlling voluntary muscles - confined him to a wheelchair and he was unable to speak except through a voice synthesiser. The professor defied all odds to live for 53 years longer than what the doctors had predicted.
When confirming the professor's death, his family wrote:
'We are deeply saddened that our beloved father passed away today. He was a great scientist and an extraordinary man whose work and legacy will live on for many years. His courage and persistence with his brilliance and humour inspired people across the world. He once said: "It would not be much of a universe if it wasn't home to the people you love." We will miss him forever.'
Professor has made several contributions to science, and he is probably best identified with his book; 'A Brief History of Time,' which explained the mysteries of the universe in basic terms and sold over 10 million copies worldwide.
He will be missed. May Professor Hawking's soul find rest. Talk to us in comments.
Please fill in your e-mail so we can share with you our top stories!