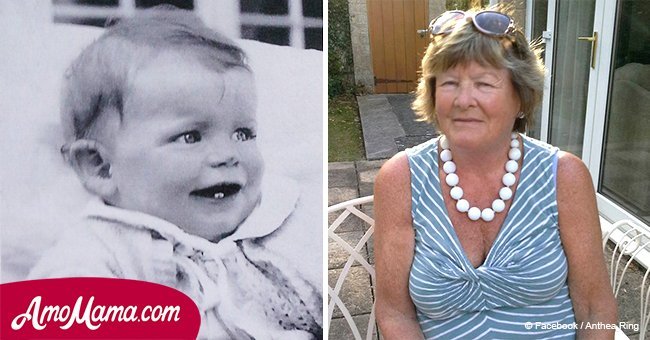 Woman finally finds out who her dad is 80 years after she was abandoned

She made headlines when a family discovered her back in 1937.
As reported by Meaww, Anthea Ring was found abandoned as a baby in a blackberry bush. After a quarter of a century, the 81-year-old grandmother has finally found her birth father after a series of DNA tests were conducted on a postage stamp.
On August 26, 1937, a family heard Anthea crying in South Downs, Sussex. She wore a pink dress with her hands tied in front of her.
Anthea was just 9 months old at the time. She was covered in scratches and insect bites when she was found.
The abandoned baby made headlines around the UK and there was even a search for her parents, but nobody came forward to claim her. She was then adopted by a family in Surrey.
When Anthea was 25 years old, she learned that the people who raised her weren't her biological parents and she also found out that she was the popular blackberry bush baby.
Anthea, who is a married grandmother, spent 35 years searching for who her parents were and why she was left to die.
Then, a DNA test results eventually tracked her birth father and he could be one of six brothers from the Coyne family in County Galway in the west of Ireland.
It was quite hard for the scientists to prove which brother was Anthea's father until they analyzed 30-year-old letters that were sent from one of the boys.
They found the saliva on the letter which confirmed that Patrick Coyne was her father. Unfortunately, Patrick, who lived in County Mayo, Ireland, died before this revelation.
With the help of Julia Bell, a genetic genealogist, Anthea also found out who her birth mother was, according to Meaww.
Though Anthea was provided with some closure, the actual reason behind why she was abandoned still remains a mystery.
"I'm delighted to have found the final piece in the puzzle of my family history. Who would have thought that stamps from decades-old letters were the key to unlocking my story?" she said, adding that being able to track down her family "has been incredible."
Please fill in your e-mail so we can share with you our top stories!