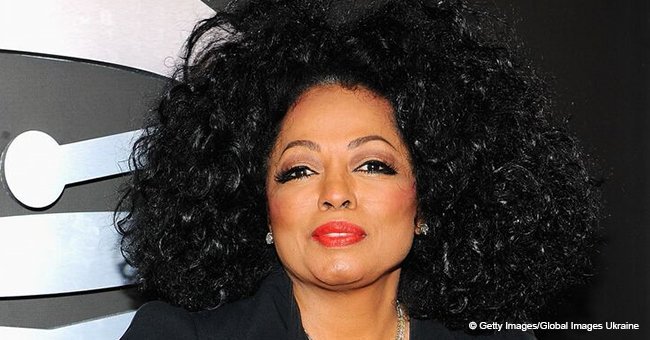 Diana Ross' son shares precious photo of his biracial daughter proving she has her grandma's eyes
- AmoMama learned from Instagram recently that Evan Ross shared a picture of himself and his daughter who has taken after her grandma's eyes.
- The American actor Evan Ross took to his Instagram page and shared a lovely picture of his daughter, and she looked very beautiful with very cute eyes.
- Recently, Evan Ross and his wife Ashlee Simpson were caught on a red carpet moment as they accompanied Ashley Tisdale to the Grammy viewing party.
Diana Ross has the same eyes as her granddaughter Jagger Snow Ross and Evan Ross is happy about that fact.
The picture showed Snow in Evans' arms as they took a selfie together.
Her hair was scattered from the early morning wind, but this cutie has gorgeous eyes.
The picture had over 33k likes with comments swarming in from fans and well-wishers about how beautiful Snow looked in the picture.
Jagger Snow Ross was born on July 30, 2015, to Evan Ross and singer Ashlee Simpson.
The couple has had a very lovely marriage together and they soon changed their family name to Ross-Næss.
Evan Olav Næss professionally known as Evan Ross was born on August 26, 1988, to Arne Næss and Diana Ross.
He has three other siblings and is the father of the cute Snow Ross.
Ross began his acting career at Greenwich High School, his first major role was in a film titled 'ATL'
He has been starred in so many amazing movies over the years and has made a name for himself in the movie industry.
This young father has to switch between work and career, but so far he has done an amazing work with the help and support of his wife Ashlee.
Recently, the couple made an appearance with Ashley Tisdale to the Grammy viewing party and also had their kids tagging along
Evans was in a plain white suit while his wife was dressed in a black outfit that had gold stones all over.
They looked really gorgeous on the red carpet as different pictures of them were taken by celebrity photographers.
The vent was hosted by Steven Tyler and Live Nation for the 2018 Grammy awards that was taking place at Red Studios in Los Angeles.
This family has made it through so many ups and downs and are still waxing stronger.
Do you love what you see when you look at Snow Ross?
Tell us what you think in the comment section below
Source: Instagram
Please fill in your e-mail so we can share with you our top stories!