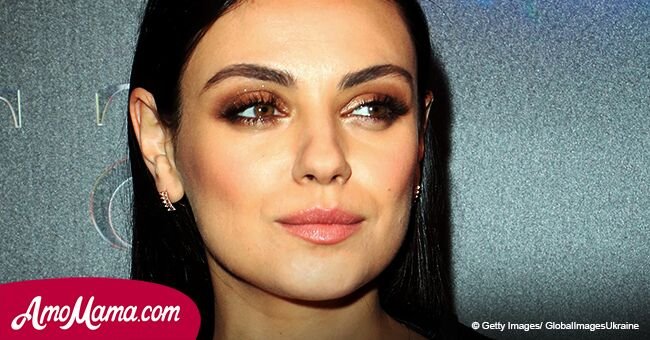 Mila Kunis makes a frank confession about her and Ashton Kutcher's young son Dimitri
We don't know what to expect following the confession American actress, Mila Kunis made about her young boy on TV.
AmoMama brings you details to what Mila Kunis said about her son while on the Ellen DeGeneres Show as sourced from Daily Mail on March 21, 2018.
Mila Kunis and her hubby, Ashton Kutcher is one of the popular Hollywood couples who does not attract unnecessary attention to themselves.
However, it's a different thing entirely when it comes to her kids.
Last Christmas, as AmoMama reported, the mother of two shared parenting details and told the public how her kids won't be receiving Xmas gifts.
Mila stated that it was due to her Jewish upbringing and her husband was fine with it.
There were other times she's candidly opened up to the media about her kids as well.
It's nothing bad anyway.
Mila was with Kate McKinnon, who they'd appear together in the upcoming summer comedy, The Spy Who Dumped Me on Wednesday.
The actress looked gorgeous in a stylish black blouse with a white diagonal stripe revealing one shoulder that she paired with matching pants and white stilettos.
The women chatted about the first trailer of their new film while on the Ellen DeGeneres show.
Somehow, the 34-year-old actress delved into talking about the differences in her kids who joined her on the show with Ashton.
'They're incredibly different,'
Mila said.
'My boy's like a sloth. He's wonderful, and I love him — 'cause one day he'll probably watch this and be like, 'Why did you say that?' - but the truth is, women are smarter than men.'
When you hear the word sloth, what probably comes to your mind is those extremely sluggish guys from Zootopia.
Perhaps, it reminds you of some very lazy persons.
Now the bugging thing is, isn't it harsh to hear a mother say that about her own child?
Albeit, considering the context she was only trying to show the difference between Dimitri, 15months old and Wyatt, 3.
'And I have this evidence from my two different humans that I created,' she continued.
'Girls are just like, on it and boys are like, dum dum dum,' Mila said, nodding her head for each 'dum.'
'They're just like a little bit more like little linebackers going through life, and like Neanderthal-ish.'
What do you think of Mila Kunis' theory about her kids?
Please fill in your e-mail so we can share with you our top stories!