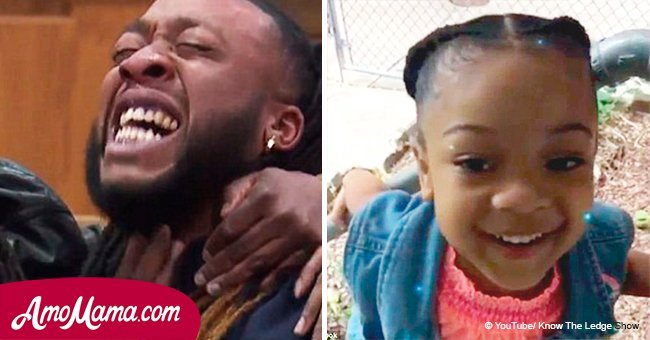 Devastated father screams in court after his ex is charged with beating his toddler to death

He couldn't contain his emotion inside the courtroom.
Mickhal Garrett broke down as his daughter's suspected killers appeared in the court on March 13, 2018, as reported by The Epoch Times.
Sierra Day, 23, and Deonte Lewis, 26, were charged with aggravated murder in the death of four-year-old Aniya Day-Garrett.
Sierra is the girl's mother. She and her boyfriend, Deonte, were looking after the child when she died on March 11.
Both from Ohio, the couple were being held on a $1-million bond.
"You killed my daughter! You hurt my baby!" Mickhal, gripped by anger, yelled as the suspects walked into the court.
Medical records issued by the Cuyahoga County Medical Examiner's Office revealed that the young girl had suffered a stroke.
It was allegedly caused by blunt impacts to the head with a subdural hematoma. Aniya was pronounced dead at Euclid Hospital.
Seeing the condition of the child, the hospital reported the little girl's death as a suspected homicide.
According to authorities, Aniya also showed symptoms of malnourishment.
Mickhal and other family members said they had suspected Sierra and her boyfriend of physically abusing the young girl in recent months.
On several occasions, the family had noticed bruises on Aniya's body, such as rug burns and black eyes.
They had made a number of complaints to the Cuyahoga Children and Family Services.
Rachael Garrett, Aniya's paternal grandmother, was heartbroken. "This beautiful 4-year-old daughter's life was cut down, senselessly," she told reporters.
She called the suspects "heartless."
The Cuyahoga Children and Family Services had checked on the child previously, following her family's complaints. However, they did not find enough evidence to warrant removing the girl from her mother's home.
Mickhal had petitioned for emergency custody at the time of Aniya's death.
He said he did everything in his power to let the child welfare agency that he should have custody of his daughter because of the abuse she was suffering from her mother and mother's boyfriend.
Please fill in your e-mail so we can share with you our top stories!