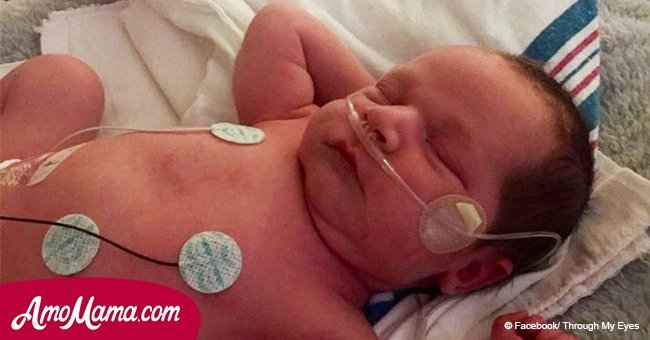 Woman learns of an abandoned baby on the news and adopts him. Now he's full of life and happy
The couple had just moved to Oklahoma when they received the unexpected phone call that would become a wonderful blessing.
Amy and Todd had just moved to Tulsa, Oklahoma, in October 2014 when they saw a sad news story about a baby boy who had been abandoned at a local care facility with his umbilical cord still attached.
As reported by NTD TV, Amy asked her husband if she thought he was their baby, and Todd said he doubted it.
But just minutes later, the couple received a call from the adoption agency asking them to come in as soon as possible. Still quite busy with unpacking, Amy went alone as Todd and their children continued getting the house ready.
When Amy arrived at the agency, they showed her the same news report Todd had just told her about. Next, they told her that she didn't even have anymore paperwork to sign, and that the little one was hers.
"There are no words to describe all the emotions I felt at that moment," Amy explained of the experience. "Oh, he was ours. The moment I saw him, I knew he was ours, yes … definitely."
Todd was over the moon when he heard the news, and described it as "a God thing."
A year later, he was officially adopted into the family, and they named him W. Not only was he saved, but his story has saved many other children after their mothers heard about his circumstances.
According to Oklahoma's Safe Haven Law, mothers who are unable to care for their babies can legally leave them at a fire station, police department, or a hospital without facing prosecution.
This is exactly what many mothers have done since W's story was made public, and it has saved many infants from terrible fates they might otherwise have suffered.
The couple already had seven children, but they have not a single regret about adopting W, saying that he is the perfect addition to their home and family.
"We call him the little tornado. He is just a spunky little dude," Amy said. "He's full of life and happy. He's a really healthy, happy little boy. He's done very well for his beginnings."
Speaking of W's biological mother, Amy has no ill feelings towards the woman who abandoned W, saying she is nothing but grateful. Without her, Amy and Todd would never even have met their precious baby boy.
Please fill in your e-mail so we can share with you our top stories!