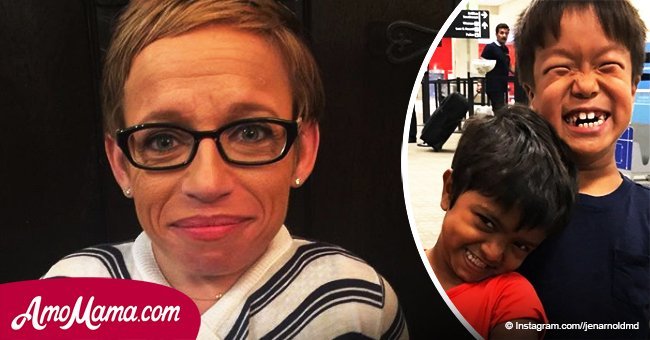 'The Little Couple' star shares a photo of her two kids while spending family time together
The matriarch of The Little Couple posted a picture of her two adorable kids who seem to be growing day by day.
Dr. Jen Arnold shared a photo on Instagram of 6-year-old Zoey and 8-year-old William where it looked like they were playing. Alongside the photo, the doctor wrote:
"What does this picture say to you? #apictureisworthathousandwords #littlecouple"
Jen's fans indulged in her question and answered her questions. Some of the comments included:
"Happy sibling love! Just having fun"
"It says sibling love and big brother will always look out for and protect little sister!"
"They are growing & they are so cute."
"This picture says to me: "two beautiful, well adjusted, happy siblings who love each other."
It has been quite awhile since fans last saw the Klein family in their screens. It has not been easy for the pair over the nine seasons they've been filming. Jen was diagnosed with a rare form of cancer in 2013, which resulted to a failed pregnancy.
They then adopted Will and Zoey, which they also had to initially with a lot of struggles to get them adjusted. These days, the reality family are adjusting and settling into their new lives since moving from Texas to St. Petersburg, FL for Jen's work.
Production has been in a limbo because of the couple's involvement over production companies. In Touch has reported though that the show is likely to return in the next few months since their legal problems are now behind them.
No details have been released about the upcoming episodes but for the meantime, we can see from Jennifer's Instagram posts that they seem to be enjoying sunny Florida and are quite busy.
Sound off in the comments and tell us what you think of the Klein family!
Please fill in your e-mail so we can share with you our top stories!