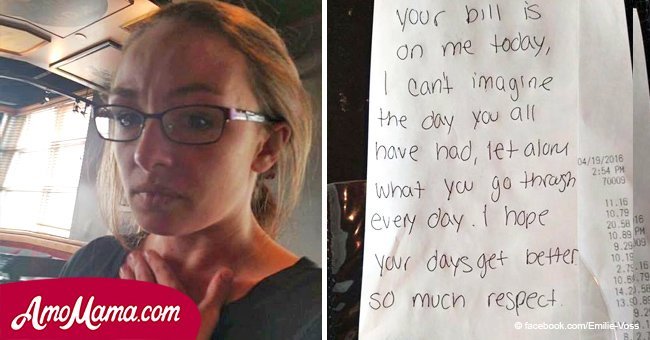 Server pays for police officers' meals after funeral
A young waitress from Red Robin was touched by the story she heard from her customers that she made a kind gesture.
Nine police officers from Columbus, Ohio had just been to a funeral of one of their colleagues, SWAT Officer Steve Smith.
The nine officers went to Red Robin afterward to eat and decompress.
Officer Smith had passed away on April 10, 2016, after he was shot during a stand-off, as revealed by Wimp.
More than a thousand people showed up at the fallen hero's funeral, including the nine policemen.
Jessica Dunbar, a waitress at Red Robin saw the police officers and noticed that they were looking glum.
She asked them what was wrong and one of the officers replied, "It's always a rough day when you've gotta put a brother in the ground."
At that point, Dunbar immediately thought of her father who was a retired police officer. She knew being a policeman was not an easy job. She witnessed her mother constantly worrying about her father while she was growing up.
Dunbar obviously knew that her father is not retired but she thought that something like what happened to Officer Smith could have just as swiftly happened to her father.
The waitress thought she would do a kind gesture in his father's honor, as well as in the memory of Officer Smith.
Dunbar decided to pay the officers' $123 bill and she handed them a note instead.
The note read, 'Officers, your bill is on me today. I can't imagine the day you all have had, let alone what you go through every day. I hope your days get better. So much respect.'
The nine policemen were touched by Dunbar's random act of kindness.
Dunbar told NBC, "To have them shake my hand and say 'thank you' to me, that was incredible."
Please fill in your e-mail so we can share with you our top stories!