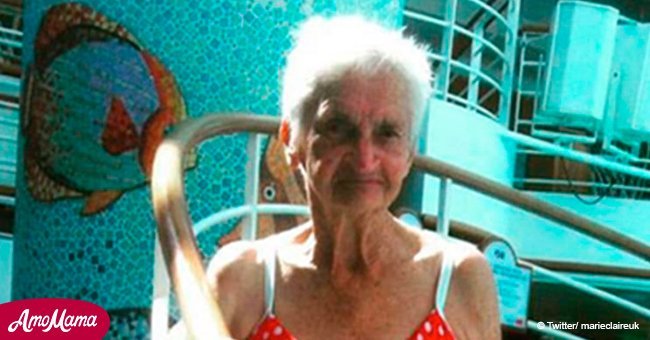 90-year-old woman shows off her body in a hot red bikini. Photo goes viral all over the world

A 90-year-old grandmother is taking the Internet by storm and proving that age and body type doesn't matter. Every body is still beautiful.
Irene Carney, who lives in a nursing home in Ballina, Australia, was invited by her family to join them on a cruise. In preparation for their trip, her daughter, Helen, took her shopping.
As reported by Newsner, they visited the Lady Watergo outlet in Byron Bay, where Irene initially just purchased a kaftan. Two weeks later, she returned for swimwear.
She was hesitant at first and thought she wouldn't look good in the red polka dot bikini. Her daughter and the Lady Watergo staff assured her that she would be able to pull off. And she did!
Lady Watergo shared a photo of Irene on the cruise ship, proudly wearing her bikini, to their Facebook page. They used the hashtags 'bikini' and 'never too old.'
The post was soon shared around the world and inspired women from all walks of life. The 90-year-old mother-of-ten became a beacon of hope and gave women confidence.
When browsing through the thousand comments on the Facebook page, one can be forgiven for being overwhelmed by all the comments praising Irene.
Jo-Ann Frith hoped that she will look that good when she is ninety, while Karen Wood said she looks fantastic and Sari Hanninen described her as an 'amazing woman.'
John Hunt noted that Irene is not ashamed of her body, while Susan Binaris Eckert described her as elegant and refined. 'She has "class" written all over her,' she added.
Nellrena Reed said that Irene 'earned the right to a wear bikini,' and said she prays that God gives her 'many more happy, healthy years.'
According to Marie Claire, Irene's daughter saw the post and thanked everybody for their beautiful comments. 'I feel so proud of my mother, what an inspiration she is!'
Please fill in your e-mail so we can share with you our top stories!