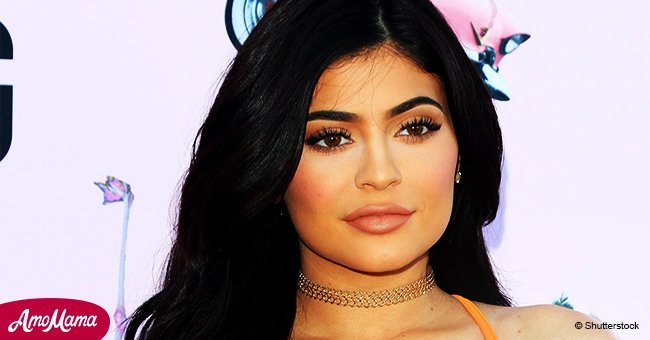 Kylie Jenner shares an old photo of her curvaceous pre-baby body while rocking a skimpy bikini

Through the throwback photo she shared, the new mom reveals her summer goal of getting back into shape.
Kylie Jenner has just released a sexy pre-pregnancy photo of herself as a reminder of her summer goal which she indicated in her caption.
Dressed in a skimpy bikini that showcased her glorious curves, the black and white throwback photo she posted was also a glaring reminder of how much weight she's lost since giving birth to her first child Stormi just seven weeks ago.
A day before the flashback post, the 20-year-old revealed her weight-loss progress by sharing a Snapchat of her amazingly flat tummy as she lifted her black sweater to showcase her bare stomach. Her photo taken from her mirror image also displayed her full breasts and shapely butt which already resembled her pre-pregnancy curves.
Pleased with her progress, Kylie didn't impress her followers though when she promoted a waist-training corset she uses to get back in shape. On Monday, she posted another selfie wearing a tight fitting black dress with a black waist trainer fastened around her waist. She urged fans to try out the figure shaping device and even gave a discount code while adding the hashtag #ad at the end.
But her efforts to help gained more displeasure than raves as she was accused by social media critics of setting high beauty standards and encouraging unhealthy practices while making other moms feel less of themselves if they don't revert back to their old weight after pregnancy.
It appears Kylie is obsessed with her looks and part of that is because she owns a beauty empire that she constantly updates. On Sunday, she promoted the latest lipstick shade from her make up line. In the Snapchat she posted, she wore the 'Low Key' nude hue while showing off the lipstick tube with puppy filters in the selfie. In no time after her post, the lipstick sold out online according to the Daily Mail.
Meanwhile, the lipstick mogul also gave followers a peek of her glamorous Los Angeles pad she decorated with two Barbie paintings. The contemporary art by Beau Dunn was reportedly purchased by Kylie for $20,000, according to TMZ. To highlight the canvases, she surrounded it with a lips-shaped couch and spotless white fur rug.
Amid the business of being a mother and attending to her weight loss, Kylie also finds time to spend with her baby daddy Travis Scott. On Tuesday, she was spotted with her beau in West Hollywood enjoying an early morning juice. The couple were first linked in April 2017 after they attended Coachella together. Shortly after, they expected their first child.
Please fill in your e-mail so we can share with you our top stories!