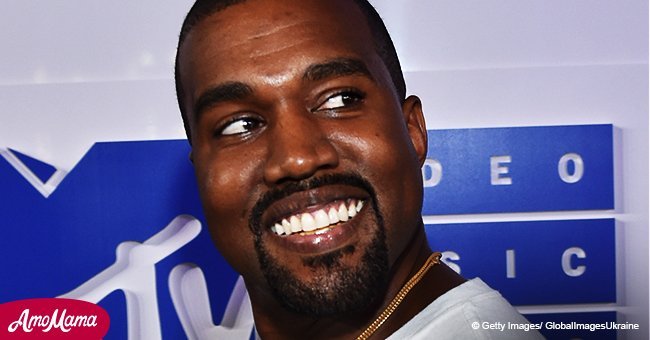 Kanye West is seen carrying his 4-year-old daughter on his shoulders. He looks like a proud dad

The doting dad makes sure his daughter gets in on all the action during the recent 'March For Our Lives" rally they attended.
Kanye West and Kim Kardashian made sure their four-year-old daughter North knew what it meant to fight for a cause when they brought her along to the monumental 'March For Our Lives' rally on Saturday.
Blending with the hundreds of thousands of people who attended the gun violence protest in Washington D.C., Kanye hoisted his eldest daughter over his shoulders to get a clearer view as they coursed through the crowd bundled up for the cold weather.
Sharing the moment on Twitter, Kim proudly wrote,
"I'm so happy I got to share this moment with these two. I hope North remembers this forever."
Earlier that day, she also tweeted to her 59 million followers her intention to attend the event and expressed her solidarity for the cause.
"So ready to March today! Landed in DC w North & Kanye."
"We stand in solidarity with the survivors of gun violence & students who are calling for action on common sense gun safety laws at #MarchForOurLives around the country."
Student survivors of the recent Marjory Stoneman Douglas High School shooting led the event which aimed for the establishment of gun safety laws. On February 14, 17 students from their high school were gunned down by a teenage gunman with an AR-15 he legally purchased.
Also spotted at the event at the country's capital where more than 500,000 people flocked were Lin Manuel Miranda and Miley Cyrus who performed for the crowd as well as Oprah Winfrey, as the Daily Mail reported.
Kim's sister Kourtney also supported the event by tweeting:
"Today we stand with the survivors of gun violence and student activists who are calling for action on common sense gun safety laws at #MarchForOurLives around the country! This is the beginning of a safer future. #MarchForOurLives."
800 other rallies were being held simultaneously all over the world that day with the DC movement leading the pack. In Los Angeles, survivors of the February 14 Parkland massacre in Florida helmed the event attended by Kendall Jenner and her friend Hailey Baldwin. Paul McCartney on the other hand was spotted in the New York protest.
Apart from their lending their presence, celebrities pledged their support for the gun control rally by donating funds. These donors included George Clooney and his wife Amal who shelled out $500,000, Oprah Winfrey and Steven Spielberg.
On Friday, President Donald Trump announced that the Department of Justice would be issuing a rule banning bump stocks – the gun accessory that turns non automatic guns into semi-automatic.
However, this didn't seem like a clear solution seeing that Florida gunman Nikolas Cruz did not need a bump stock when he slaughtered 14 students and 3 teachers on Valentine's day.
The accessory was used though by Stephen Paddock, the infamous Las Vegas gunman who killed 58 people during a music festival in October before shooting himself.
Please fill in your e-mail so we can share with you our top stories!