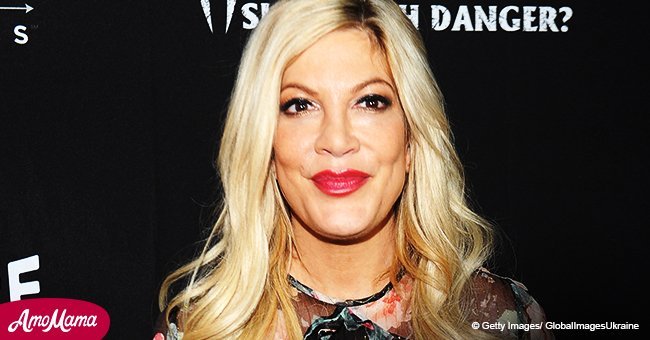 Tori Spelling shares a sweet photo of her five kids, revealing how beautifully they've grown

The recently troubled star shares a photo of happy times in her household revealing her children growing beautifully together.
Tori Spelling shared a harmonious photo of her children on Sunday, revealing an alternate life in their home where police weren't involved, in a recent report by the Daily Mail.
Following a series of unexplained encounters with the law recently, it was a pleasant surprise to see Tori's five children with husband Dean McDermott playing together in their backyard. The brood led by 11-year-old Liam, 9-year-old Stella, 6-year-old Hattie, and 5-year-old Finn, flashed happy smiles as they posed outdoors while their youngest sibling, 1-year-old Beau fidgeted with his toy automobile.
Their mother lovingly captioned the photo,
"It's family #sundayfunday... Let's get this party started! We got the sun back and we are excited to spend the day outdoors! I [heart] that all of my 5 kiddos that range in age from 1 to 11 genuinely love each other's company and play so well together. Makes this #mamabear's [heart]swoon!"
She also encouraged her followers to share how they're spending their Sunday in the comments section.
Just a day before, Tori also proudly revealed her daughter's entrepreneur skills when she posted a photo of an excited Stella carrying a stack of clear plastic jars bearing slime she created. Introducing her daughter's first business venture, she wrote,
"My @missstellamcdermott has officially started her own #slime biz. You can goto @stylishslimebystella."
The daughter of the late television production mogul Aaron Spelling, Tori reportedly only inherited $800,000 from his father's $600 million empire making her even prouder of her daughter's motivation to save. She continued,
"She is starting now to save to open her own bakery after college! So proud of my #tweenpreneur #slimetween."
"Follow her to see the slimes she'll make #forkidsbykids link in her bio. And, yes she was #chickenbombed #mamachicken."
The chicken Tori was referring to was the one peeking behind Stella in the photo.
Happy times seemed to have escaped the family prior to her recent posts with the police often called into their family drama. On March 9, Tori and Dean along with their five children were escorted out of the Black Bear Diner by police after they reportedly disrupted the restaurant's peace with a public spat.
A couple of days earlier, Dean asked for police assistance in checking up on his wife who left for a doctor's appointment with one of their children. While it's unclear why Dean felt the need for cops to check up on Tori that day, police found her in fine condition at the doctor's office prompting them to leave without any cause for alarm.
A week before on March 1, a "female mental illness call" alerted the cops sending them to the McDermott's residence. According to reports, Tori was suspicious of an intruder she thought was in her home. Turns out, the stranger she thought was lurking inside their house was her husband.
With the mysterious incidents occurring one after the other, many are wondering what really is going in the McDermott household. But if there really was trouble, it didn't show on Thursday, when they appeared as one big happy family enjoying a peaceful dinner in Calabasas.
It seems the couple have been weathering the storm as of late and here's hoping the tides are finally turning for the better.
Please fill in your e-mail so we can share with you our top stories!