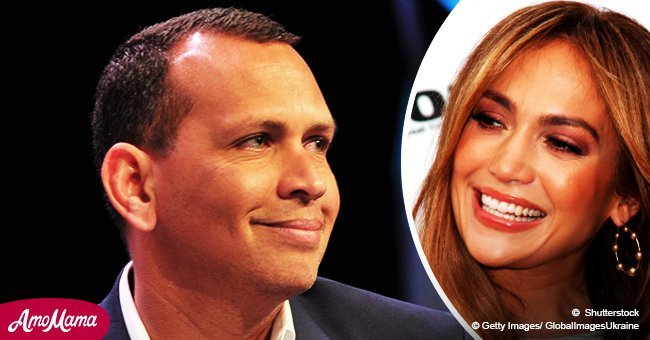 Alex Rodriquez is seen admiring Jennifer Lopez's fit body as she rocks a tiny white sports bra

Alex Rodriguez gushes over his girlfriend's "savage" training as she prepares for her series of shows.
Alex Rodriguez recently revealed how much of a fan of his girlfriend Jennifer Lopez he is when he posted a video of the 48-year-old mother-of-two training for her concert the same night.
In the Instagram Story the 42-year-old retired baseball player shared, his pop star girlfriend dressed in a white sports bra was showcasing her strong core as she accomplished a series of leg lifts while strapped into an arm harness.
Describing her as "savage" in the video, he also gushed over her five days earlier when he wrote "You're my world champion. Every. Single. Day" in another Insta-story.
On the Saturday Alex posted JLo's training video, the Daily Mail revealed the fit songstress was set to perform on the eighth leg of her 130-date 'All I Have' residency at Planet Hollywood's AXIS auditorium in Nevada. Alex was clearly being the supportive partner cheering his girlfriend on.
The couple who've been dating for 13 months now share so much in common they're so in sync. Both are natives of New York with South American roots. JLo hails from Puerto Rico while A-Rod is of Dominican descent. Moreover, they each have two children from previous marriages.
But despite the fact that they're almost like soulmates, they're in no rush to wed. In the April edition of Harper's Bazaar, Jennifer admitted she "would love to grow old with somebody in a committed relationship," but also added she's not about to force anything. Describing her relationship with Alex, she said,
"It's good, it's healthy; we communicate well. We understand each other's lives in a way that most other people couldn't. We both entered the public eye in our early 20s and overachieved right from the start.
"And that affects every dynamic in your life, from your family to your work to your relationships. We have a similar makeup."
Due to her busy schedule, the World of Dance judge missed the 'March For Our Lives' rally but made sure she took part in the event by tying up with MTV and the NAACP in sponsoring buses to the Washington, D.C. rally.
She also shared a snap of her mother Guadalupe Rodriguez and her nine-year-old niece Lucie Wren Lopez-Goldfried who represented the family in the monumental protest.
Please fill in your e-mail so we can share with you our top stories!