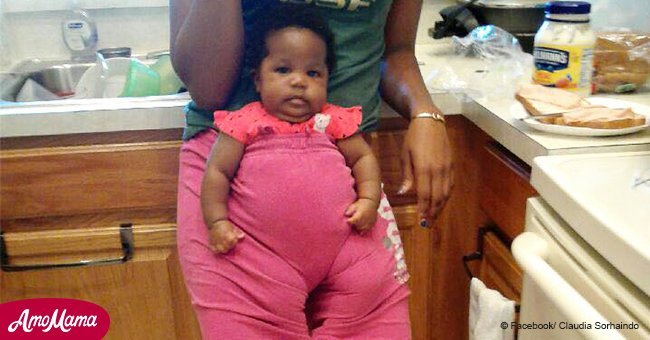 Mother left her baby with her niece. Suddenly, the babysitter sent a strange photo to the woman
The tactics used by the teenager were clever as well as hilarious.
As reported in an article published by Bored Daddy, a woman named Claudia Sorhaindo shared photos of her teenager niece on social media when she was captured taking care of Sorhaindo's 2-month old daughter as a babysitter in a very creative way.
Sorhaindo had to run a few errands for a few minutes and had to leave her house immediately. She could not simply leave her 2-month-old daughter, Ava, on her own as her nature was very demanding.
It was next to impossible to find a babysitter with such short notice, so Sorhaindo decided to ask her 15-year-old niece, J'Ann to help her out through the few minutes of her emergency situation.
Her niece agreed to babysit the 2-month-old and Sorhaindo left the house to complete her task. A few minutes later Sorhaindo received a message from J'Ann.
J'Ann said that she wanted to make a sandwich for herself but did not leave Ava from her sight. Sorhaindo was slightly worried for her daughter as a part of her believed that J'Ann would leave Ava to make a sandwich for herself.
She knew that not all babysitters follow the code of conduct and put the child's needs first. But she expected better from her own niece.
Even if J'Ann managed to fulfill, both, her craving and her duty, she would've needed one hand to hold the baby, the other hand to make the sandwich and an extra hand to text Sorhaindo about the situation.
Sorhaindo was worrying more and more by the moment as she tried to picturise the possibilities of what she would find out when she reached home.
To her surprise, J'Ann managed to keep Ava under her nose and make a sandwich to satiate her hunger without breaking a sweat. Even Sorhaindo's imagination could not beat J'Ann's creativity.
J'Ann tactfully placed Ava between her shorts so that she never lost sight of her. Ava too looked comfortably suspended in the hilarious situation. On the other hand, J'Ann managed to make herself a delicious sandwich.
Please fill in your e-mail so we can share with you our top stories!