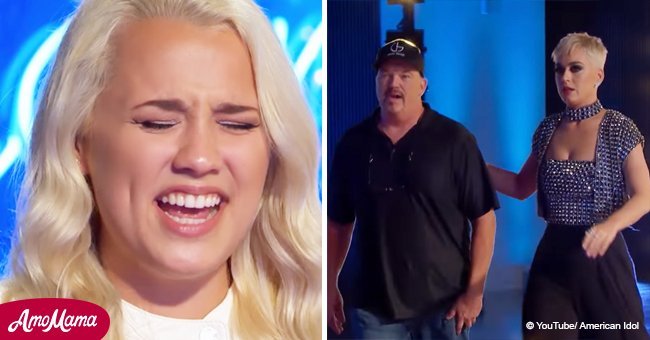 Dumbfounded dad bursts in to console rejected teen daughter only to learn the judges lied
The father thought her daughter didn't make the cut but he was happy to be wrong.
A 17-year-old girl named Gabby Barrett tried her luck and auditioned for American Idol.
Before her audition, she was interviewed on the show and she talked about how much she loved her father and how appreciative she is of everything that he did for her and her family.
Faith Tap revealed that Gabby's father, Blase, works as a maintenance man for Goodwill during daytime and works as a cleaning man during the night.
Gabby explained that her father had sacrificed so much just so her dreams would be turned into a reality.She even described her father as her "rock."
Gabby auditioned on the show in front of the panel of judges consisted by Katy Perry, Luke Bryan, and Lionel Richie.
She chose Carrie Underwood's song entitled Good Girl. Gabby claimed that the American Idol alum was her ultimate idol.
After her piece, the judges asked Gabby if she could choose another song, an emotional one, that could really show off her vocal prowess.
In the end, Gabby chose a song from church. The sudden switch of tunes shifted her entire audition.
The judges supposedly felt the rawness of her emotion through her performance.
As Blase listened outside of the audition room, it was evident he was very anxious. It seemed that he somehow felt that his daughter's audition was going downhill.
Soon after, Katy Perry peeps out of the room and asked Blase to come inside so he could console her daughter.
From that point, Blase prepared himself for the worst. He was sure that his daughter was rejected from the competition.
Although, what he did not know was that his daughter teamed up with the judges to pretend that she did not make it.
Blase was incredibly surprised when he found out that his daughter is now on her way to fulfilling her biggest dream.
Please fill in your e-mail so we can share with you our top stories!